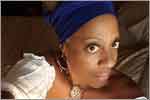 Makeda Smith Newsroom - Profile and News Archive
Makeda Smith is a veteran entertainment publicist (Jazzmyne Public Relations) and a pole/aerial dance performance artist (FlyingOver50.com). She fluidly mixes her movement practice with sensuality, stamina and strength while maintaining her professional persona as a well-respected public relations experts.
In addition to running her Jazzmyne Public Relations agency, Makeda offers dance workshops, classes and private lessons to women, while targeting those 50 and older. She also blogs weekly at FlyingOver50.com with positive affirmations that she combines with her pole and aerial photography.
Makeda is currently celebrating the 30th year anniversary of her agency, Jazzmyne Public Relations as she takes her FlyingOver50 pole and dance movement practice to new heights.
On Facebook at Makeda Smith and Jazzmyne Public Relations and FlyingOver50
Instagram: @FlyingOver50
Twitter: @makedaqueen and @flyingover50
Media Contact:
Edrea Davis
Jazzmyne Public Relations
(818) 613-9521
edmedia@dogonvillage.com
Engage with Makeda Smith
Learn more online at: https://flyingover50.com/
Follow: Twitter | Facebook | Instagram | YouTube
Press Releases from Makeda Smith :