Mine Not Yours Newsroom - Profile and News Archive
Aunt and Niece team, Debbie and Jordan, launched the "shmumfy" loungewear line, mine…NOT YOURS! in 2019. Everything from the handpicked fabric selections to the cut and sew, is made with love in the heart of Los Angeles, California. mine…NOT YOURS! came to life during the rise of the #metoo movement when we realized we each have a story to tell. As a women run organization, our mission is to champion and rally behind all generations of women who have decided that #timesup. We want to spread the message that what is mine is not yours without permission.
Engage with Mine Not Yours
Learn more online at: http://www.minenotyours.com/
Follow: | Facebook | Instagram
Press Releases from Mine Not Yours :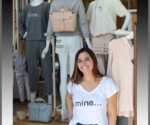 LOS ANGELES, Calif., Oct. 17, 2019 (SEND2PRESS NEWSWIRE) — Fashion Designers Jordan Willner and Debbie Rosove announce their MINE NOT YOURS fashion event at Fred Segal Sunset, 8500 Sunset Blvd, Los Angeles, CA 90069. Event is Nov. 16, 12-3 p.m.