Muhle Glashutte USA Newsroom - Profile and News Archive
Nautische Instrumente Mühle-Glashütte is now the only watch manufacturer in the German town of Glashütte that is still owned by a long-established local family. Their family has been based in the Glashütte region for more than 700 years and has been working in the town's watchmaking industry over a total of five generations without interruption. The family company was founded by Robert Mühle in 1869.
Duber Time Group is the US Distributor for Muhle Glashutte USA.
Engage with Muhle Glashutte USA
Learn more online at: https://www.muhleglashutteusa.us/
Follow: Twitter | Facebook | Instagram | YouTube | Pinterest
Press Releases from Muhle Glashutte USA :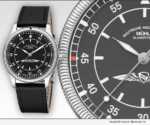 ST. PETERSBURG, Fla., Sept. 19, 2019 (SEND2PRESS NEWSWIRE) — A sleek and powerful pilots watch, designed by pilots. The team at The Aircraft Owners and Pilots Association (AOPA), the world's largest association for aviation enthusiast and pilots, designed this watch with Muhle-Glashutte, the legendary watch manufacturer. This limited edition of 500 pieces is to be released in celebration of the 80th anniversary of AOPA.