MyKabin Newsroom - Profile and News Archive
MyKabin makes backyard cottages, also known as detached accessory dwelling units, for the Seattle area market. For an introductory price of $110,000, MyKabin will permit, build, install, connect to utilities, complete all state and local inspections, and clean up your site. Homeowners will then have a fully legal and rentable unit from which to derive recurring revenue from their backyard.
CONTACT
Phone
(425) 643-9124
(844) MY-KABIN

Address 13222 SE 30th Street
Suite A1
Bellevue WA 98005
By Appointment
Engage with MyKabin
Learn more online at: https://mykabin.com/
Follow: Twitter | Facebook | LinkedIn
Press Releases from MyKabin :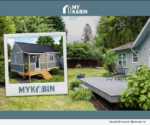 SEATTLE, Wash., May 30, 2019 (SEND2PRESS NEWSWIRE) — Now residents of Western Washington have access to affordable backyard living space with the launch of MyKabin, a new construction firm specializing in backyard cottages. MyKabin has reimagined the construction process by focusing on creating a beautiful, prefabricated cottage with a minimally disruptive installation process that saves homeowners time, money, and the hassle of a lengthy construction project.