New Directions in Writing Newsroom - Profile and News Archive
New Directions is a three-year postgraduate training program for clinicians, academicians, and writers who want to develop a richer understanding of modern psychoanalytic perspectives and apply it to their own work. In seasonal weekend conferences and optional summer and winter retreats, our community of students, alumni, teachers, and guest faculty come together to explore selected aspects of the psychoanalytic domain. The range of conference topics has been broad. Memory, gender, trauma, infancy, evil, dreams, the body, creativity, mourning, projective identification, writer's block, revenge and forgiveness, the writer's voice, and the psychology of the therapist, have been the subjects, among others, of our weekends.
As healthcare workers and first responders, each of you has a story to tell. The Things They Carry Project workshops are a place to let down and relax, to get feelings onto the page. A small, supportive environment with skilled writers and sensitive clinicians; an atmosphere of safety; respect and appreciation for one another's writing; a chance to piece together memories, experiences of the past year.
Engage with New Directions in Writing
Learn more online at: https://newdirectionsinwriting.com/
Follow:
Press Releases from New Directions in Writing :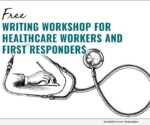 WASHINGTON, D.C., March 25, 2021 (SEND2PRESS NEWSWIRE) — New Directions in Writing, an offshoot of the Washington Baltimore Center for Psychoanalysis, announces "The Things They Carry," a series of free writing workshops for health care workers and first responders, designed to help them face the deep trauma of their experiences with the corona virus pandemic.