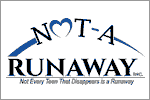 Not A Runaway Inc. Newsroom - Profile and News Archive
Not a Runaway, Inc. is a 501(c)(3) non-profit organization whose mission is to help in the promotion, information dissemination and recovery of missing children that have been specifically labeled as "runaways" by fostering a Triangle of Trust among law enforcement, community and a missing child's family. The team also works to educate the general public on ways the community can work together to bring missing children home and protect all children.
Engage with Not A Runaway Inc.
Learn more online at: http://www.notarunaway.org/
Follow: Twitter | Facebook | Instagram | LinkedIn
Press Releases from Not A Runaway Inc. :