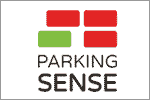 Parking Sense Newsroom - Profile and News Archive
Parking Sense is a parking technology organization focused on delivering a comprehensive suite of intelligent solutions to the parking, transportation and mobility industries. Parking Sense delivers a unique combination of hardware and software products to provide an integrated Parking as a Service (PaaS) platform to support the evolution of the driving experience.
By directing vehicles to available parking garages and spaces within those garages more efficiently, we can help our customers reduce congestion, improve their carbon footprint and optimize the usage and profitability of parking assets.
The system itself is based around low-energy technology to continue the focus on environmental benefits and sustainability.
At its core, the Parking Sense system is a scalable, dynamic solution allowing clients to customize the product and build in additional features and technology over time.
Engage with Parking Sense
Learn more online at: http://www.parkingsense.com/
Press Releases from Parking Sense :