PILLARZ LLC Newsroom - Profile and News Archive
PILLARZ is an online learning platform with live, interactive engagement with Nevada Licensed Teachers utilizing advanced video conferencing technology. Children have an opportunity to interact and share ideas in small class environment (3-5 students). We also offer customized, individual sessions for Special Education and Advanced Scholarship.
Engage with PILLARZ LLC
Learn more online at: https://pillarzllc.com/
Follow: Twitter | Facebook | Instagram | LinkedIn
Press Releases from PILLARZ LLC :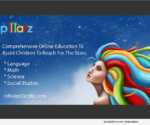 RENO, Nev., July 9, 2020 (SEND2PRESS NEWSWIRE) — PILLARZ LLC, (www.pillarzllc.com) announced today remote K-6 education accelerator focused on empowering children focused on Math, Language Arts, Science and Social Studies.