Pop Up World Newsroom - Profile and News Archive
Pop Up World - Creative Spaces For Creative People. Workspace. Pop Up Shops and Offices. Created by British entrepreneur, Graham Jules.
Engage with Pop Up World
Learn more online at: https://www.popupworld.co.uk
Press Releases from Pop Up World :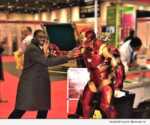 LOS ANGELES, Calif., Sept. 19, 2019 (SEND2PRESS NEWSWIRE) — We all know launching a start-up is hard but British entrepreneur, Graham Jules of Pop Up World(R) London bit off more than he could chew. Marvel and DC Entertainment's solicitors threatened legal action because of the word "Superheroes" in the title of his start-up manual Business Zero to Superhero. Marvel and DC jointly own the trademark to Superheroes.