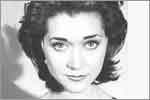 Robbi Firestone Newsroom - Profile and News Archive
An artist from birth, commissioned oil portraitist, fine artist Robbi Firestone has committed the past 5 years to creating the first large scale artwork addressing infertility, invitro-fertilization and child loss entitled, "The Empty Womb." A fiercely honest sculptural installation, the Work is constructed from Firestone's invitro syringes, video, industrial objects, and women's work (embroidery, crochet, lullabies).
The mission of the installation is to provide catharsis and resources to women healing grief resulting from infertility, invitro-fertilization, and child loss.
Internationally renowned Producer/Writer/Director of "What the Bleep Do We Know," Betsy Chasse, is currently completing a film, also entitled "The Empty Womb," about Firestone's art piece, infertility and creativity.
In January, Firestone's work was featured in Parade Magazine; the most widely read magazine in America, with readership of 54.1 million. Featured in the NY Times, LA Travel, San Francisco Chronicle, Seattle Home and Lifestyle, the Huffington Post, New Mexico Magazine, Dallas Daily, Boston Herald and Miami Globe, Firestone appeared on the inaugural cover of Santa Fean Now.
This artwork has no first home. Museum directors, doctors, artists, educators, and national press have given permission to include their testimonials in marketing.
If this piece touches you, or you have ideas which might help this project "Nurture, support and empower women with resources to heal their grief of infertility and child loss,"
Engage with Robbi Firestone
Learn more online at: http://theemptywomb.com/
Follow: Twitter | Facebook | LinkedIn | Vimeo
Press Releases from Robbi Firestone :