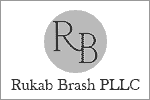 Rukab Brash PLLC Newsroom - Profile and News Archive
Founded in 2017, Rukab Brash PLLC is one of New York City's premier real estate law firms offering a hands-on approach and practical, effective solutions to their expansive portfolio of clients.
Rukab Brash provides full service representation and advice in every aspect of real estate, from negotiation and execution of the gamut of construction agreements, access agreements between adjacent property owners, real estate agreements for the sale and leasing of residential and commercial properties, as well as corporate compliance, entity formation and risk management.
Rukab Brash's wealth of experience in New York real estate makes it the ideal firm for owners, developers, corporations, equity investors and lenders in both real estate transactions and in all court venues.
Engage with Rukab Brash PLLC
Learn more online at: https://www.jblegalpllc.com/
Follow: | LinkedIn
Press Releases from Rukab Brash PLLC :