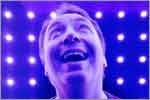 Sam Pocker Newsroom - Profile and News Archive
Sam Pocker is an award-winning author, filmmaker, and artist. His work has appeared in the Wall Street Journal, The Washington Post, New York Daily News, PIX 11 News, Sirius Radio, NPR, and many other media outlets.
Pocker's sixth album, "Sam Pocker Sings Juliana Hatfield," is available everywhere on Friday April 13, 2018.
Sam Pocker & The Pretty Colors are an indie band from Los Angeles, CA who create site-specific pop songs and occasionally play Lana Del Ray covers in Norse.
Engage with Sam Pocker
Learn more online at: https://prettycolors.bandcamp.com/
Press Releases from Sam Pocker :