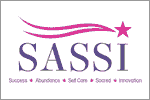 SASSI Newsroom - Profile and News Archive
SASSI is a community of women COMMITTED to DEVELOPING ourselves in business and life. INSPIRING others... we are engaged in discovering, exploring, and stretching to reach beyond our wildest DREAMS!
SASSI stands for:
Success: Achieving your goals, being open and curious. Accepting and willing to try, try again.
Abundance: Having every area of life abundant, finances, friends, family, partners, free time, travel, homes and more.
Self Care: Scheduling time to exquisitely care for ourselves and the gift we are to the world; fun, rest, relaxation, and reflection.
Sacred: Connecting with what is precious and peaceful to you.
Innovation: Creating new ideas, products and efficient ways to provide the best solutions.
Engage with SASSI
Learn more online at: https://www.sassiwomenunite.com/
Press Releases from SASSI :