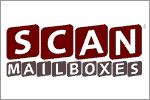 Scan Mailboxes Newsroom - Profile and News Archive
Scan Mailboxes is a commercial mail receiving agency (CMRA) authorized by the United States Postal Service. Scan Mailboxes provides exemplary service using today's latest technology for customers to receive their mail online. Customers have their mail and packages sent to our facility. When mail arrives, customers receive a same-day email message that includes a scanned image of the front of envelopes or packages. From there, you have a range of options by going online securely.
Locals can stop by to pick up their mail and packages, or we can forward them, shred/recycle, or open and scan the contents for you. Scan Mailboxes also is a Registered Agent Service for Texas business entities registered with the Texas Secretary of State.
Engage with Scan Mailboxes
Learn more online at: https://scanmailboxes.com
Follow: Twitter | Facebook | LinkedIn
Press Releases from Scan Mailboxes :