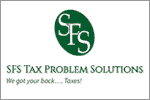 SFS Tax Problem Solutions Newsroom - Profile and News Archive
Jeffrey Schneider EA, CTRS, NTPI Fellow, of SFS Tax Problem Solutions, has the knowledge and expertise to help you reach a favorable outcome with the IRS - whether you need assistance with reducing the amount of your tax debt, filing a back tax return, or preparing a tax settlement by negotiating offers in compromise and filing installment agreements.
He is the author of "Now What? I Got A Tax Notice From The IRS. Help!" (ISBN: 978-0692997154; Feb. 2018) .
He is a Fellow of the National Tax Practice Institute (NTPI), a Past President of the Florida Society of Enrolled Agents, the Palm Beach Chapter and Treasure Coast Chapter of the Florida Society of Enrolled Agents and a Director on the Board of the National Society of Enrolled Agents (NSEA). Schneider was recently appointed to the Office of Professional Responsibility subgroup on the Internal Revenue Service Advisory Council (IRSAC).
Engage with SFS Tax Problem Solutions
Learn more online at: https://sfstaxproblemsolutions.com/
Follow: Twitter | Facebook | LinkedIn | YouTube
Press Releases from SFS Tax Problem Solutions :