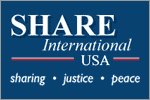 Share International USA Newsroom - Profile and News Archive
Share International USA was formed in 1982 to present information about the imminent appearance in our everyday world of a group of perfected individuals known as the Masters of Wisdom, and their leader, Maitreya, the World Teacher for the Age just beginning.
As the guides and keepers of the Earth's plan of evolution, they have long worked behind the scenes to inspire and stimulate cooperation, mutual respect, economic and social justice, and peaceful resolution of conflicts. Now, however, they are ready to come forward and work openly to better assist with the cascade of crises created by a still-learning humanity.
According to Share International, the Masters' appearance in the everyday world is dependent on many complex things, but humanity's readiness to end all warfare and relate to each other as members of one human family will allow them to help us openly without infringing our free will.
Engage with Share International USA
Learn more online at: https://www.share-international.us
Follow: | Facebook
Press Releases from Share International USA :
BERKELEY, Calif., Oct. 28, 2021 (SEND2PRESS NEWSWIRE) — World leaders meet in Glasgow beginning October 31 for the United Nations COP26 Climate Change Conference, to address the conclusions of the latest Intergovernmental Panel on Climate Change (IPCC) report: that human activities have unequivocally warmed and damaged the planet. Share International attributes 80 percent of the warming to human actions, and says sharing resources to mitigate the inevitable consequences is key to solving climate change.