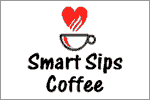 Smart Sips Coffee Newsroom - Profile and News Archive
Smart Sips creates unique and delicious gourmet coffees, cappuccinos, hot chocolates and more. Smart Sips are made in the U.S. in small batches to ensure consistency and provide the freedom to have fun with new flavor profiles. We use an old-style process of flavoring the highest quality beans, and you can taste the difference.
We insert creativity, enthusiasm and passion into every facet of the company. From staying on top of flavor trends to experimenting with unusual and innovative combinations, we have our finger on the pulse of the stimulating world of coffee.
Coffee is more than a drink….it is an experience. And our goal is to provide a wonderfully delightful experience with every sip.
Engage with Smart Sips Coffee
Learn more online at: https://www.smartsipscoffee.com/
Follow: Twitter | Facebook | Instagram | LinkedIn | Pinterest
Press Releases from Smart Sips Coffee :