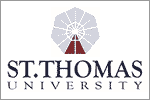 St. Thomas University Newsroom - Profile and News Archive
The only Catholic Archdiocesan-sponsored University in Florida, St. Thomas University places an institutional emphasis on social justice and ethical behavior, and provides its globally diverse student body with low student/teacher ratios.
The private, non-profit university offers more than 45 undergraduate, graduate, and post-graduate degrees at its 144-acre campus in Miami Gardens, Fla., and through distance learning, including one of the oldest (and highly ranked) undergraduate programs in Sports Administration in the country.
From 1970 to 1992, St. Thomas University was the training and practice home of the Miami Dolphins.
Engage with St. Thomas University
Learn more online at: https://www.stu.edu/
Follow: Twitter | Facebook | Instagram | YouTube
Press Releases from St. Thomas University :