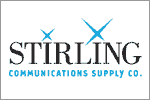 Stirling Communications Newsroom - Profile and News Archive
In 1999, Stirling Communications was born out of Symco Inc., an independent manufacturer's rep company and its need to connect some of our leading brands with our best integrators and customers. Stirling Communications focuses on targeted industry-leading commercial AV brands.
With over 40 years of experience in the Commercial Video and AV Industry, we understand the needs of the AV integrators, and have designed a focused distribution company that most closely meets the needs of the dealers and integrators in our Industry.
We are not a mass distributor of many competing products and brands, but rather a specialty importer and boutique distributor of carefully chosen Best-in-Class products that solely utilize distributors to get their products to the resellers. And you won't find that we know just a little, about a lot of products.
What you will find is that we know a lot about the targeted brands that we get behind. These are carefully chosen, Industry-leading brands that are certain to add value to your business..
CONTACT INFORMATION:
Stirling Communications Supply Co.
29 Poplar Drive, Stirling, New Jersey 07980
Phone: 1-908-604-9360 | Email: info@stirlingcomm.com
Engage with Stirling Communications
Learn more online at: https://www.stirlingcomm.com/
Follow: | LinkedIn
Press Releases from Stirling Communications :