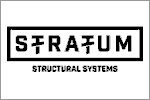 Stratum Structural Systems Newsroom - Profile and News Archive
Stratum Structural Systems ("Stratum") is a trusted specialty contractor in the foundation repair and waterproofing industry. We help homeowners solve problems such as cracks in the foundation, settling and sinking foundations, bowed walls, egress window needs, interior and exterior drainage systems and a whole host of other general construction needs.
We provide access to an entire network of registered Professional Engineers to validate our solutions and protect YOUR needs first.
Our daily commitment to excellence, professionalism, and honesty have been profiled locally and nationally. All employees are background checked and drug tested.
Stratum is unique in that we don't just hire "sales people" who will do or say anything just to get the sale! All estimators are experienced in structural repairs and have personally performed the work that might be recommended. Additionally, they receive ongoing, continuing education by certified manufacturers. We comply with OSHA, state, and municipal requirements.
Stratum Structural Systems
17600 Chesterfield Airport Road, # 203
Chesterfield MO 63005
314-620-8153
Engage with Stratum Structural Systems
Learn more online at: https://www.stratumrepair.com/
Press Releases from Stratum Structural Systems :