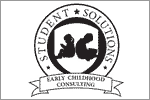 Student Solutions Newsroom - Profile and News Archive
If you are looking for an Early Childhood expert to coach, cheer, and celebrate you for the work of preparing our youngest generation, then welcome to Student Solutions! The solution is an inspired, prepared, and appreciated stakeholder. Student Solutions is a team of teachers, college education majors, and a college professor.
Serving children in K-5th grade, the Summer Literacy Camp takes place Saturdays throughout July and August in Spartanburg, S.C. Families enjoy a parent program presented at the end of each session by student scholars. The camp also aides in teacher preparation through paid internships and literacy leadership opportunities for educators. Local businesses and community stakeholders generously funded tuition scholarships.
Engage with Student Solutions
Learn more online at: http://www.studentsolutionssc.com/
Follow: Twitter | Facebook | LinkedIn
Press Releases from Student Solutions :