SV Diagnostic Lab Newsroom - Profile and News Archive
SV diagnostic lab is a subsidiary of Clinical Lab Consulting. SV diagnostic lab is a CLIA certified (36D2158721) High complexity Independent Reference Lab in Dayton that will be offering Corona virus (COVID19 testing) to help alleviate the current bottlenecks in Lab testing.
Clinical Lab Consulting, a Dublin, Ohio based organization provides Lab management & compliance services to over 100 High complexity Hospital Labs & Independent Reference labs throughout United States. Our team has help setup over 400 labs throughout United States in the past 10 years and are experts in the Laboratory/Diagnostic testing arena and clinical compliance. Our scientists are also on advisory board of certifying bodies (CLIA and COLA).
Engage with SV Diagnostic Lab
Learn more online at: https://www.svdiagnosticlab.com/
Follow:
Press Releases from SV Diagnostic Lab :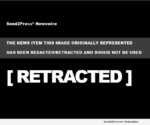 DAYTON, Ohio, Dec. 21, 2020 (SEND2PRESS NEWSWIRE) — SV Diagnostics Labs today announced a *retraction* of a release the company formerly issued on Oct. 6, 2020 regarding their expanded COVID-19 Testing Program using Oral Rinse Collection "Quiksal," as well as a company name change.