Thar Process Inc Newsroom - Profile and News Archive
cGMP Certified and employing more than 120 people in 3 countries, Pittsburgh-based Thar is the global leader in CO2 technology and equipment for the hemp industries. Thar's expertise includes engineering headed up by Dr. Chordia, Jeff Wright and Sashi Ramesh plus chemistry and formulations, headed up by Drs. Shaikh and Lupoi. Chief Revenue Officer Todd Palcic and CFO Greg Imberlina round out the team with operations managed by Rick Mascara and Keith Douglas.
Engage with Thar Process Inc
Learn more online at: http://tharprocess.com/
Follow: | LinkedIn
Press Releases from Thar Process Inc :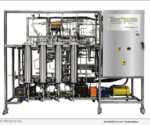 PITTSBURGH, Pa., June 8, 2020 (SEND2PRESS NEWSWIRE) — Thar Process Inc., global leader in the design and manufacture of advanced technologies for the extraction and purification of natural products, announces a new Isolator XXX phase for hemp/cannabis extract purification by supercritical fluid chromatography (SFC).