United Fidelity Funding West Newsroom - Profile and News Archive
Based in Irvine, Calif., United Fidelity Funding West (UFFWest) is comprised of a highly experienced team of mortgage banking professionals who are focused on the wholesale lending channel. UFFWest utilizes the very best in wholesale mortgage technology and is laser-focused on providing brokers and their borrowers with the highest level of service on every single loan, every single time. UFFWest prides itself on creating personalized relationships with its partners.
The company offers partners individualized, hands-on service from the point of submission all the way through funding by having a dedicated team of employees ready to assists at every milestone of the lending process, ensuring a very smooth and easy transaction. The core team at UFFWest has been working closely together for more than 10 years, and has a companywide mantra of "Lending at a Higher Level."
Media Contact:
Joe Bowerbank
Profundity Communications, Inc.
949-378-9685
jbowerbank@profunditymarketing.com
Engage with United Fidelity Funding West
Learn more online at: https://uffwest.com/
Follow: Twitter | Facebook | LinkedIn
Press Releases from United Fidelity Funding West :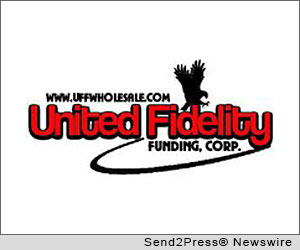 KANSAS CITY, Mo., Dec. 27, 2012 (SEND2PRESS NEWSWIRE) — United Fidelity Funding Corp. (UFF), a national wholesale and retail mortgage banker, announced that it earned a spot on Mortgage Technology magazine's 2012 Top 25 Tech-Savvy Lenders and Servicers list for the third time.