Valuegraphics Newsroom - Profile and News Archive
The Valuegraphics Database defines the shared values of target audiences, regardless of their demographic profiles. It uses a global database informed by neuroscience, psychology and sociology and measures 436 shared human values, wants, needs and expectations. It's accurate to +/- 3.5%, offering a high degree of confidence.
Engage with Valuegraphics
Learn more online at: https://valuegraphics.com/
Follow: Twitter | Instagram | LinkedIn
Press Releases from Valuegraphics :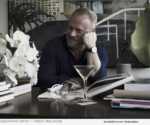 VANCOUVER, B.C., June 10, 2020 (SEND2PRESS NEWSWIRE) — During your COVID-19 quarantine, in those Zoom socials, was gin your preferred spirit in your martini shaker? If it was, here's what we know about you and your cohort of gin drinkers, according to The Valuegraphics Database and a new global analysis of what people all over the world care about most – and by extension how they will behave.