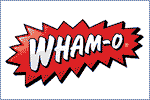 WHAM-O Newsroom - Profile and News Archive
With 70 years of cultural and commercial significance, and with a lineup of consumer products that appeal to people of all ages, the Wham-O brand remains synonymous with fun, play and sport. They manufacture and market some of the most recognizable consumer brands in the world today, from classics like Frisbee discs, Slip 'N Slide water slides, and Hula Hoop toy hoops, to outdoor brands like Morey, Boogie body boards, Snow Boogie sleds, and BZ Pro Boards.
Wham-O is a company and lifestyle brand that is steeped in the American cultural tradition of classic, well made toys. They continue their success and entrepreneurial spirit by building smart partnerships, targeting partners aligned with their mission of bringing new products to market that promote an ongoing commitment to the highest-quality, and to bringing families, friends, and teammates together during every season of the year - indoors and out.
The memorable motto, "Go out and Play" is one tagline that has resonated with every family in the world for generations in the past, present, and future.
Engage with WHAM-O
Learn more online at: https://wham-o.com/
Follow: 𝕏 (Twitter) | Facebook | Instagram | LinkedIn | YouTube
Press Releases from WHAM-O :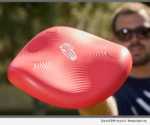 CARSON, Calif., Nov. 20, 2018 (SEND2PRESS NEWSWIRE) — Frisbee(R) Sonic, the new "square" Frisbee by Wham-O, has been added to the Fatherly list of 100 Best New Toys of 2018. The designations, compiled by a team of editors, dads and kids, honor the manufacturers who harness technological advancements, imagination and product design to churn out play products that inform, inspire, develop and entertain. Wham-O reinvented the way Frisbee and all discs will fly in the future with the introduction of the Frisbee Sonic.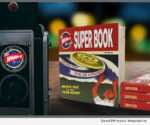 CARSON, Calif., Nov. 5, 2018 (SEND2PRESS NEWSWIRE) — Wham-O, the iconic all-American recreational toy brand, will release a new commemorative book marking the 70th anniversary of the company. The book, entitled "SUPER BOOK – Fantastic Tales From Inside The Fun Factory" (ISBN: 978-0692163054), takes readers on a journey through the innovation and imagination that led to the creation of some of the world's most inventive, beloved toys and games that every family has played with for the last 70 years.