WXXI Public Media Newsroom - Profile and News Archive
WXXI Public Media is the essential, life-long educational media resource for the Greater Rochester area in New York State. WXXI puts the community first with programming that stimulates and expands thought, inspires the spirit, opens cultural horizons and promotes understanding of diverse community issues. WXXI also has a long-term affiliation with Little Theatre, which helps enhance the cultural life of the community and strengthens two of Rochester's most vital arts institutions.
Engage with WXXI Public Media
Learn more online at: https://www.cpb.org/
Follow: Twitter | Facebook | YouTube | Pinterest
Press Releases from WXXI Public Media :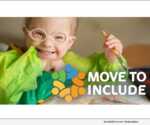 ROCHESTER, N.Y., June 29, 2020 (SEND2PRESS NEWSWIRE) — July 2020 marks the 30th anniversary of President Bush signing into law the Americans with Disabilities Act. In celebration of this civil rights law, WXXI Public Media (Rochester, New York) is leading a pilot project to expand its innovative "Move to Include" initiative into five additional communities.