Yiftee Inc. Newsroom - Profile and News Archive
Yiftee serves more than 200 communities and 10,000 local businesses with simple, secure, PoS-independent eGift Cards that keep local dollars local. The company works with Chambers of Commerce, Downtowns, Main Streets, Business Improvement Districts and other local organizations to create "Community Cards," branded for the community and redeemable at 10s to 100s of local businesses.
Organizations and individuals purchase them online and send them via email, text or print to friends, family and co-workers to support their local businesses. There is no cost to the organizers or merchants for the program and it can be set up in just a few days. Yiftee also provides custom-branded cards for individual merchants, franchises and chains.
Engage with Yiftee Inc.
Learn more online at: https://yiftee.com/
Press Releases from Yiftee Inc. :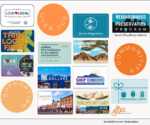 MENLO PARK, Calif., Jan. 26, 2021 (SEND2PRESS NEWSWIRE) — Yiftee, Inc., a leader since 2012 in local business eGift Cards, celebrates having implemented over 200 Community eGift Card Programs across the United States. Consumers, corporations, schools, hospitals and other organizations showed their heartfelt support of small business by buying millions of dollars' worth of cards that can only be spent in their local communities.