LOS ANGELES, Calif., Jan. 29, 2019 (SEND2PRESS NEWSWIRE) — It's been said many times recently that sitting is the new smoking. The long term sitting at an office desk can put serious stress on the lower back, says SoCal Neck & Back Injury Center.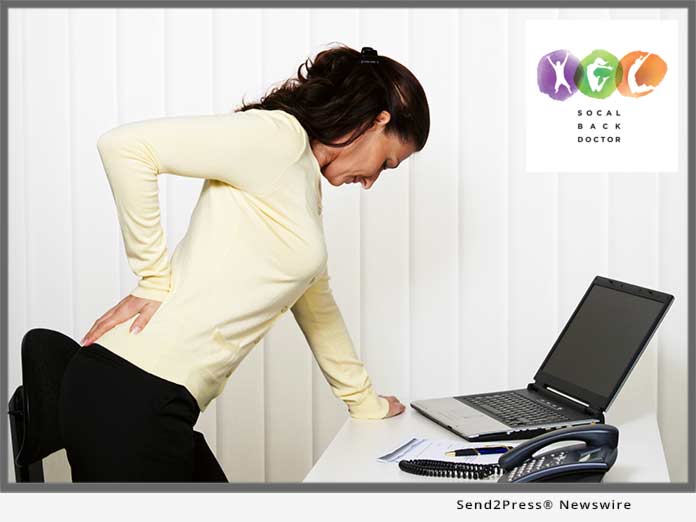 Lower back can be debilitating, and can cause a chain of other issues, including headaches, neck issues, obesity, type 2 diabetes, and even heart disease. Several studies have even suggested it could be a factor in reduced life expectancy.
So, Los Angeles, it's true – your job sitting at a desk all day may one day kill you – but this can be helped with the addition of a few changes to your routine, a different type of desk (or add on to your current desk), and a relatively low-cost subscription to a Los Angeles locally owned chiropractic service, SoCal Neck & Back Injury Center.
Employers have already been gradually introducing adjustable Standing Desks to their employees, as a cost-effective way to improve the general health of their workforce and reducing absenteeism and improving productivity. But now, employees are starting to realize the need to be proactive themselves, and want to have options to treat, and prevent the spine related illnesses and pain. Seeing a chiropractor is not a new option, but the advent of a subscription with a regular schedule is now starting to become the norm. The cost is lower, and the routine treatments prevent issues, rather than just being recommended after the pain starts.
"Inadequate strength and flexibility in your core and back are the number one reason for ongoing back pain," stated Marvin Lee, of SoCal Neck & Back Injury Center. "You can mitigate some of the damage by getting up every 20-45 minutes, or simply changing positions. But not paying attention to your back and spine is a huge mistake; this will have a very big impact on your overall health."
SoCal Neck & Back Injury Center has been serving Los Angeles and the surrounding communities for many years and wants to encourage patients to not neglect neck and back issues, by taking advantage of a monthly membership, with up to 4 adjustments a month – for a flat cost of $137 a month. This breaks down to a professional preventive back treatment each week, for less than $35 a visit, with Mechanical traction and Physiotherapy included as needed. This also results in less paperwork, and a much-simplified check in process, reducing the time away from work or away from home.
So far, the response has been nothing but positive – existing and new clients have been very happy to get the lower cost, and start getting regularly scheduled treatments, as opposed to sporadic treatment.
And based on the positive comments and reviews on Yelp, and as the membership option continues to become more popular, SoCal Neck & Back Injury Center may be expanding to handle the demand.
About SoCal Neck & Back Injury Center:
Located in Los Angeles, California, the SoCal Neck & Back Injury Center offers an innovative combination of physiotherapy, massage, acupuncture and chiropractic care, and became well known for its success in the natural care of neck and back pain, headaches, and athletic injuries.
For more information about the SoCal Neck & Back Injury Center, including details about the monthly chiropractic membership, please visit the company website – https://socalbackdoctor.com/  – or call the dedicated team directly at 323-375-5147 to setup your first appointment.
News Source: SoCal Neck and Back Injury Center