CANOGA PARK, Calif., Aug. 14, 2023 (SEND2PRESS NEWSWIRE) –- Capezio Dance Shop has been doing business in the San Fernando Valley for 50 years and shows no signs of slowing down. Founded by Sandy Friedman – now 85-years young – she continues to operate the business with the help of her son and daughter.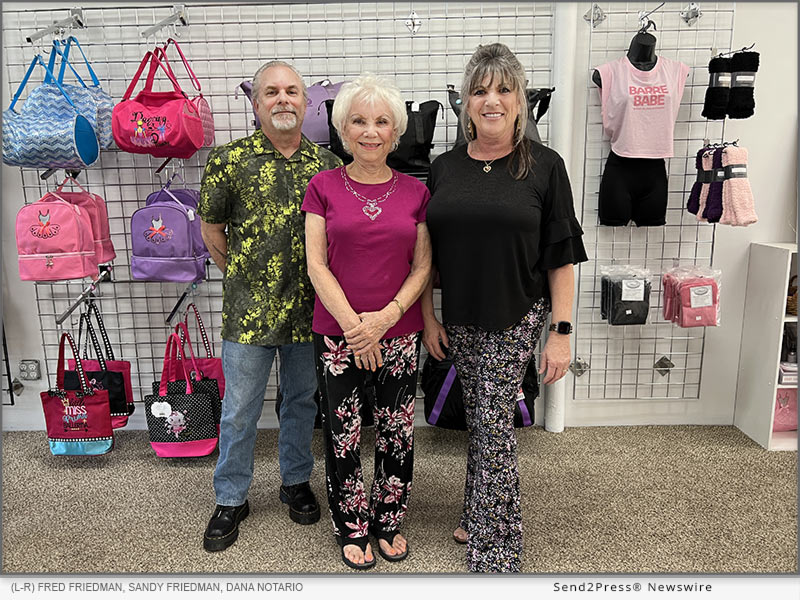 Photo caption: Left to Right, Fred Friedman, Sandy Friedman, Dana Notario.
"I'm so proud of my mom who started this business before it was commonplace for women to start businesses," Dana Notario says. "And, on top of that, she's survived economic recessions, the Internet and most recently – COVID. That's no small feat for a small brick and mortar business."
So, what does Friedman attribute this stick-to-it-iv-ness success to? Personal service and expertise rank high. Caring about the community tops the list too.
"It's not just about selling dancewear and accessories to aspiring dancers – it's about making connections and keeping those connections alive," she says.
That philosophy appears to be working as Friedman still has some of the same customers from when she first opened her doors 50 years ago.
"I've had generations of families shopping here," she says. "For example, young girls that first got fitted for dance shoes five decades ago are now coming in with their grandkids. That's what it's all about."
Friedman first got the idea to open Capezio Dance Shop when she peeked into her daughter's ballet locker and saw all the shoes hanging there. That's when it hit her. The closest dancewear shop was about 30 miles away, so she decided, "I'm going to open a dance shop in the Valley."
Ever since, she's been working with the local community to help them get everything from perfectly-fitted dance shoes and dancewear to fun accessories and gifts.
Friedman enjoys giving back to the community and has served on several non-profit Boards in addition to donating dancewear and dance shoes to local schools and various programs. She also started an event about 40 years ago which is well known in the valley today – Capezio Dance Day. It started out with a makeshift stage in a parking lot behind the shop and has now grown into a beloved regional affair held at the Madrid Theater in Canoga Park. All the schools are invited to participate. The next one is scheduled for some time in 2024.
Anniversary Event In-Store:  
To celebrate this milestone 50-year anniversary, Capezio Dance Shop is hosting a 20-percent off sale – and that's everything in the whole store.
The event will be held in the shop at 7128 Owensmouth Avenue, Canoga Park on Saturday, Aug. 26 from 10 a.m. to 5 p.m.
About Capezio Dance Shop:
Capezio Dance Shop was founded in 1973 and is a family-owned business serving dancers in the San Fernando Valley. It carries multiple name brand shoes and dancewear and offers personal, quality customer service with an experienced staff who guides customers to what they need. In addition to a wide retail selection, services include professional pointe shoe fittings, sewing and rubbers for tap/dance shoes.
For more information: https://www.capeziodanceshop.com/
MULTIMEDIA:
PHOTO link for media: https://www.Send2Press.com/300dpi/23-0814-s2p-capezio-300dpi.jpg
Photo caption: Left to Right, Fred Friedman, Sandy Friedman, Dana Notario.
News Source: Capezio Dance Shop