LOS ANGELES, Calif., Oct. 31, 2023 (SEND2PRESS NEWSWIRE) — In today's ever-changing technological landscape, the key to success is the ability to learn. Those who can quickly master new skills can stay ahead of the curve. Those who cannot—can't. In seeking to empower people with the spiritual technology he developed, Scientology Founder L. Ron Hubbard discovered the laws on which learning any subject or skill is based and developed workable methods anyone can use to improve their lives. He called this subject "Study Technology."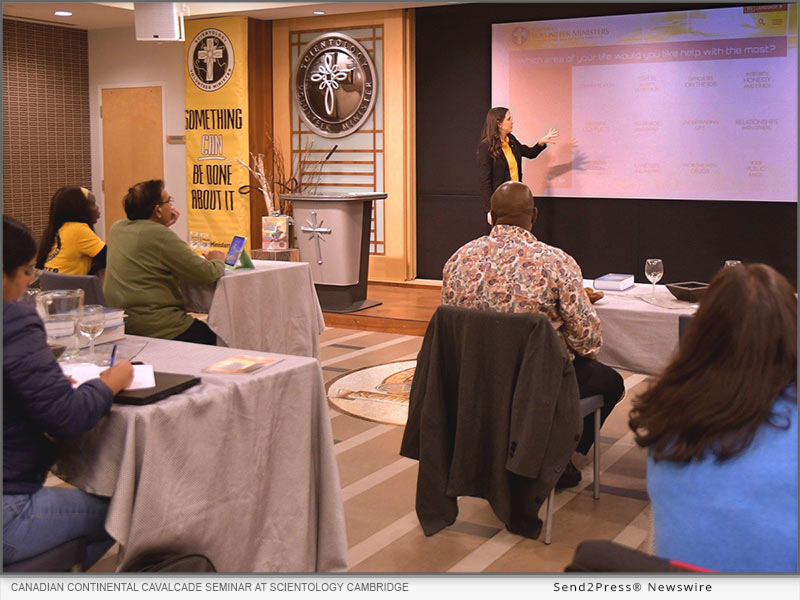 Photo Caption: Scientology Volunteer Ministers Canadian Continental Cavalcade presents a seminar at the Church of Scientology Cambridge.
It is no wonder that one of the most popular seminars the Canadian Volunteer Ministers Cavalcade offers is an overview of this subject. It includes a selection of key data from the entire body of Study Technology — fundamentals anyone can learn and use to study more effectively.
After a successful seminar on this subject last month, the Canada Continental Volunteer Ministers Cavalcade returned to the Church of Scientology of Cambridge   for another Study Technology workshop. With plenty of individual help, those attending were quickly able to master the skills. Each logged on to free online Tools for Life courses on the Scientology website that provide information and practical drills.
Mr. Hubbard recognized the pivotal role education plays not only to those wishing to learn Scientology but to anyone seeking to do well in life.
"The end and goal of any society, as it addresses the problem of education, is to raise the ability, the initiative and the cultural level and with all these the survival level of that society," Mr. Hubbard wrote.
One person attending the seminar realized that "the biggest single block to learning is your decision that you already know all about it." Spotting this opened the door to gaining new skills.
"The whole course was very clear, and concise information was laid out in a very logical and methodical way," said another.
"I learned how to really understand something fully," said yet another participant. "I learned how to successfully pass through barriers, learn better, and know more."
Best known for their work in times of disaster, where they provide relief while also supporting the work of first responders, Volunteer Ministers are always on call in their communities to help with any crisis, great or small and Volunteer Ministers Continental Cavalcades and Goodwill Tours bring their bright yellow tents to cities, towns, and villages everywhere.
The Church of Scientology Cambridge was dedicated in February 2013 by Scientology ecclesiastical leader Mr. David Miscavige. To learn more about their services, visit their website or stop by for a tour of their Public Information Center at 1305 Bishop St. North in Cambridge, Ontario.
To learn more about the work of Scientology Volunteer Ministers, watch episodes of Voices for Humanity on the Scientology Network featuring Volunteer Ministers from Kenya to South Africa and Nepal. Scientology Network is available on DIRECTV Channel 320, DIRECTV STREAM, AT&T U-verse and streams at Scientology.tv, on mobile apps and via the Roku, Amazon Fire and Apple TV platforms.
The Scientology Volunteer Ministers program is a religious social service developed by Mr. Hubbard in 1973 and sponsored by the Church of Scientology International. Hundreds of thousands of people are now trained in the skills of a Volunteer Minister across 185 nations.
Their creed: "A Volunteer Minister does not shut his eyes to the pain, evil and injustice of existence. Rather, he is trained to handle these things and help others achieve relief from them and new personal strength as well."
Their motto is no matter the circumstances, "Something can be done about it."
LEARN MORE:
https://www.volunteerministers.org/
https://www.scientology.tv/films/scientology-principles/tools-for-life.html
MULTIMEDIA:
PHOTO link for media: https://www.Send2Press.com/300dpi/23-s2p-1031-s2p-coscambridge-300dpi.jpg
Photo Caption: Scientology Volunteer Ministers Canadian Continental Cavalcade presents a seminar at the Church of Scientology Cambridge.
TAGS: #ChurchofScientology #ScientologyVolunteerMinisters #VolunteerMinistersContinentalCavalcade #ChurchofScientologyCambridge
News Source: Church of Scientology International