LOS ANGELES, Calif., Jan. 14, 2023 (SEND2PRESS NEWSWIRE) — For more than 40 years, Scientology Volunteer Ministers have responded to natural and manmade disasters. And this year was no exception. The year had no sooner started than a massive mudslide devastated Quito, Ecuador. The worst downpour in nearly two decades unleashed a torrent of water, mud, rock and debris that toppled houses, swept away motorcycles and cars, and left thousands stranded. Scientology Volunteer Ministers helped with the cleanup and provided supplies to those in need.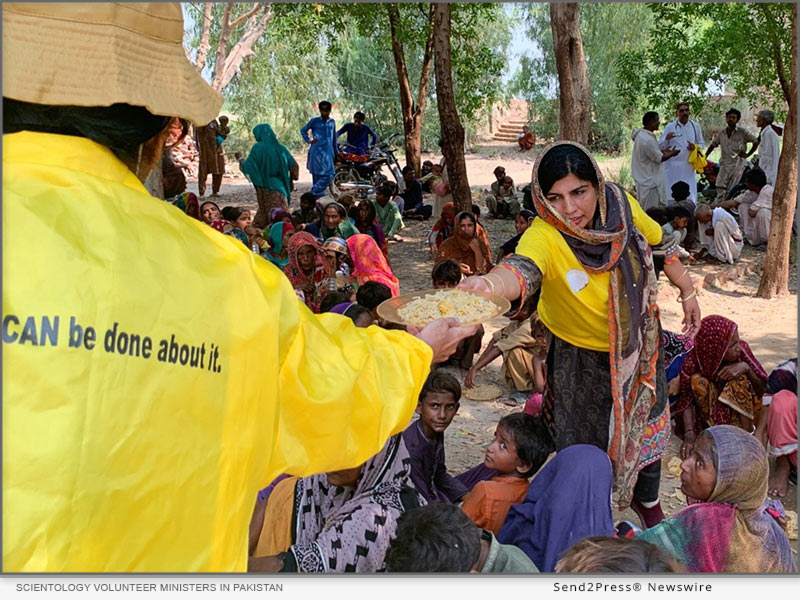 PHOTO CAPTION: Scientology Volunteer Ministers provided relief to victims of Pakistan's devastating floods and in other disaster zones across the globe.
Volunteer Ministers responded to the refugee crisis in Eastern Europe, with more than 17 million fleeing Ukraine, most of them taking refuge in nearby countries. Working in coordination with aid organizations, volunteers from across Europe including Italy, Hungary, Moldova, Slovakia and Germany raised donations and collected and transported urgently needed supplies, provided transportation to temporary quarters, worked at distribution points and manned shelters.
More than 3,000 miles away in Pakistan, Volunteer Ministers mobilized to respond to catastrophic floods that left a third of the country submerged. Thousands were stranded without access to first aid or needed medical care. To help remedy this, the Scientology Volunteer Ministers organized teams of doctors and nurses who traveled to remote regions and provided care. They also brought food, water and other emergency supplies.
More than 700 Volunteer Ministers responded to the devastation of the 150-mph winds and 13-foot storm surge of Hurricane Ian. Teams cut down damaged trees, providing access to communities cut off by the storm's destruction, helped locate valuables, shored up and protected homes and worked on the arduous muck out and cleanup of homes that could be salvaged. Others manned temporary shelters, and organized and distributed water, food, hygiene and baby supplies, and other urgently needed items.
Wherever they go, Volunteer Ministers care for the emotional and spiritual needs of the victims. They help them prevail over loss and grief, regroup, and confront the future. They use Scientology assists, techniques developed by humanitarian and Scientology Founder L. Ron Hubbard that address the emotional and spiritual factors in stress and trauma. And they share the Scientology Tools for Life, a series of online films and courses that train people in skills they can use to help others overcome the difficulties they are faced with in the aftermath of disaster.
The Church of Scientology Volunteer Ministers program is a religious social service created in the mid-1970s by Scientology Founder L. Ron Hubbard. It constitutes one of the world's largest independent relief forces. Scientology ecclesiastical leader Mr. David Miscavige, calling on Scientologists to use what they know to redouble their efforts to aid their fellow man, has inspired tremendous growth in the Volunteer Ministers movement.
A Volunteer Minister's mandate is to be "a person who helps his fellow man on a volunteer basis by restoring purpose, truth and spiritual values to the lives of others." Their creed: "A Volunteer Minister does not shut his eyes to the pain, evil and injustice of existence. Rather, he is trained to handle these things and help others achieve relief from them and new personal strength as well."
Their motto is no matter the circumstances, "Something can be done about it."
For more information on the technology used by the Volunteer Minister, watch Scientology Tools for Life on the Scientology Network at DIRECTV 320 or at www.Scientology.tv.
LEARN MORE:
https://www.scientologynews.org/press-releases/
https://www.scientology.org/our-help-is-yours/
MULTIMEDIA:
VIDEO: https://youtu.be/nGRWeCFOtI8
PHOTO link for media: https://www.Send2Press.com/300dpi/23-0113-s2p-cospakistan-300dpi.jpg
CAPTION: Scientology Volunteer Ministers provided relief to victims of Pakistan's devastating floods and in other disaster zones across the globe.
News Source: Church of Scientology International