TAIPEI, Taiwan, Oct. 31, 2023 (SEND2PRESS NEWSWIRE) — With creators and mobile professionals in mind, Silicon Power is launching two new high-speed portable SSDs: the DS72 and the MS70. Meticulously engineered and optimized for the creative process, these workflow-enhancing storage solutions pack mighty performance into an ultra-compact form. Blazing-fast read and write speeds with USB 3.2 Gen 2 interface handle large files, high-resolution media, and resource-intensive software effortlessly. In fact, these drives can transfer a 30-minute 4K video in under 28 seconds![*1]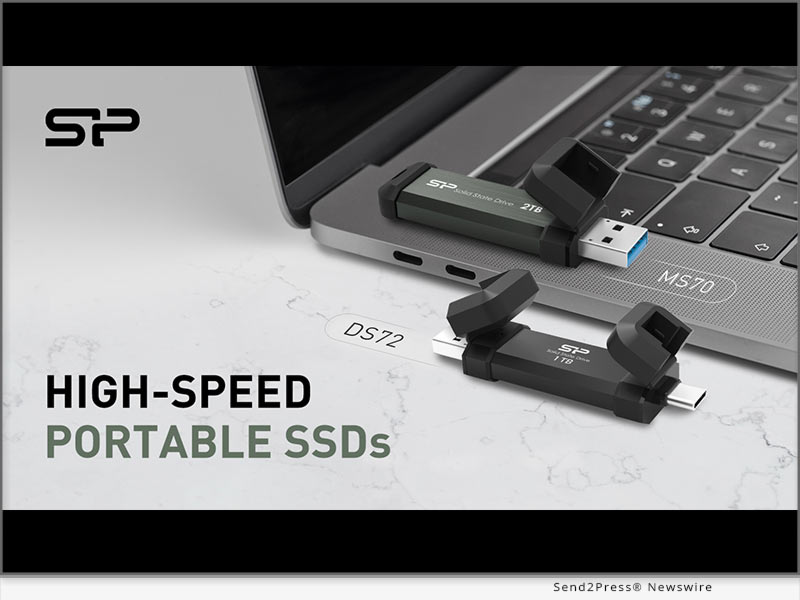 Image Caption: Silicon Power (SP) Hish-Speed Portable SSDs.
Effortless Compatibility with the DS72
The DS72 not only delivers impressive read and write speeds up to 1,050MB/s and 850MB/s [*2] as well as ample capacities up to 1TB – it offers seamless versatility by featuring both Type-A and Type-C connectors to accommodate a wide range of user scenarios. Creators can effortlessly share a presentation from a MacBook with a Windows laptop using the Type-C connector, and then plug it into a public computer with a Type-A port to access the files without any compatibility issues.
Photographers and videographers can easily transfer high-resolution media from a Type-C-equipped camera to a Type-A laptop or vice versa, simplifying the workflow and reducing downtime during shoots or editing sessions. Mobile professionals who use smartphones, tablets, and laptops with varying USB ports can rely on the DS72 to quickly access files on all of their devices without carrying multiple adapters or cables.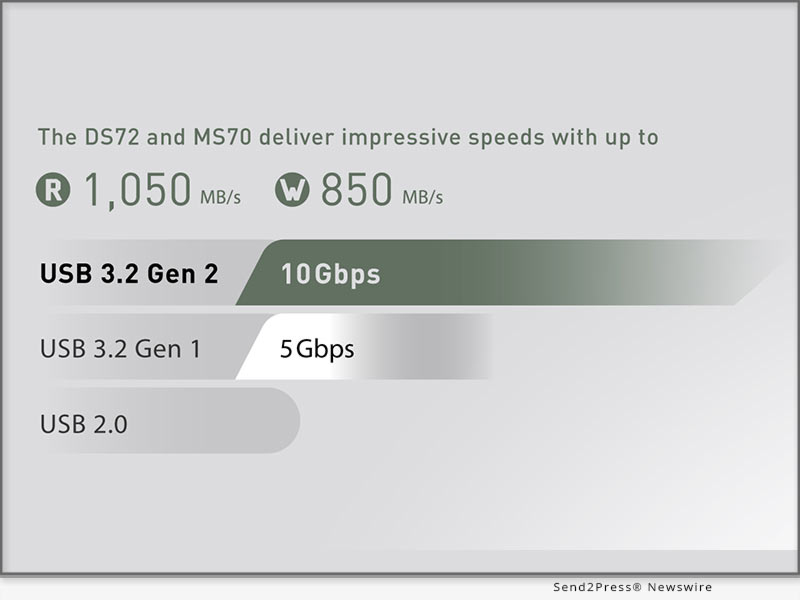 Image Caption: Silicon Power DS72 and MS70 Performance.
Boosted Productivity with the MS70
The MS70 erases the preconceived notions of what a drive of its handy size can do. With blazing-fast read speeds up to 1,050MB/s and write speeds up to 850MB/s [*2], it empowers users to work more efficiently than ever before. Creators can transfer large files in a snap to allow for quicker editing and project collaborations, while mobile professionals can back up critical documents and presentations on the fly to avoid interfering with hectic schedules. Massive capacities up to 2TB make the MS70 an indispensable tool not just for boosting productivity, but also to carry much more data within its ultra-compact form anywhere.
The DS72 and MS70 redefine convenience and efficiency, equipping creators and mobile professionals with the ability to harness their full potential by overcoming the constraints of sluggish data transfers or compatibility issues. On top of that, the all-metal bodies provide extra durability, while the detachable rubber caps protect the connectors when not in use. Silicon Power continues to drive innovation with the release of these two new high-speed portable SSDs, delivering seamless and high-performance storage for the creative minds of today and tomorrow.
For more information about the product, please check out the DS72 and MS70 on SP's official website.
LEARN MORE:
https://www.silicon-power.com/web/us/product-DS72
https://www.silicon-power.com/web/us/product-MS70
*CITATIONS:
[1] Results are based on a file size of 22.5GB and maximum read speed of 1,050MB/s.
[2] Results are based on data from Silicon Power's internal lab. Actual results may vary based on the environment, usage patterns, or other factors.
DS72 & MS70 Product Specifications
Product Name
DS72
MS70
Interface
USB Type-A and USB Type C 3.2 Gen 2
USB Type-A 3.2 Gen 2
Capacity
250GB, 500GB, 1TB
250GB, 500GB, 1TB, 2TB
Dimensions
80.9 x 21.3 x 10.4 mm
71.3 x 21.3 x 10.4 mm
Weight
15.6g
13.8g
Material
Aluminum + Rubber
Color
Black
Gray
Performance Read (max.)
1050 MB/s
Performance Write (max.)
850 MB/s
OS Compatibility
* PC- Windows 11/10/8.1/8/7/Vista/XP, Mac OS 10.3.x or later, Linux 2.6.x or later
* Mobile device- Android 4.1.X* or later / Windows phone 8* or later / iOS 11 or later
* PC- Windows 11/10/8.1/8/7/Vista/XP, Mac OS 10.3.x or later, Linux 2.6.x or later
* Mobile device- Android 4.1.X* or later / iOS 13 or later
Operating Temperature
0°C – 70°C
Certification
CE, UKCA, FCC, BSMI
CE, UKCA, FCC, BSMI
Warranty
5-year limited warranty
5-year limited warranty
( *Note: Table above may be "distorted" on some websites syndicating this news release. Graphic version of chart: https://www.send2press.com/wire/images/23-1031-s2p-silicon-power-specs-800×600.jpg )
About Silicon Power:
Founded in 2003 by a group of data storage industry experts, Silicon Power (SP) is committed to delivering outstanding product and service quality. Headquartered in Taipei with a state-of-the-art production site, SP has become a leading manufacturer of flash memory cards, USB flash drives, portable hard drives, solid state drives, DRAM modules, and industrial-grade solutions. It has become an international player with four branch offices around the world by successfully blending innovative technology with award-winning designs. Driven by its brand philosophy "Memory is Personal," SP continuously strives for perfection to preserve and protect data.
More information: https://www.silicon-power.com/web/us/
Media Contact:
Silicon Power (SP)
Sophie Chiu
Tel.: +886-2-8797-8833 EXT. 380
E-mail: sophie_chiu@silicon-power.com
News Source: Silicon Power