BRONX, N.Y., May 17, 2018 (SEND2PRESS NEWSWIRE) — Casita Maria Center For Arts & Education and Bronx Music Heritage Center are proud to present the South Bronx Culture Trail Festival 2018: Somos Unidos. This fun, family-friendly festival celebrates the rich cultural contributions of the communities that make the South Bronx their home. In partnership with community based organizations, city agencies and charities, multiple events will be held throughout the South Bronx from May 31 through June 23, 2018 uniting communities, arts, culture, and wellness while promoting civic engagement.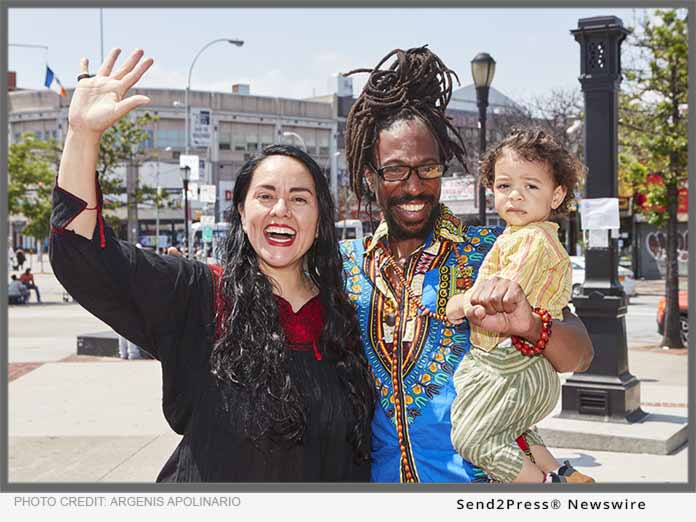 Events will showcase both traditional roots and fusion art forms including music, dance, visual art, crafts, puppetry, theater and culinary arts that reflect the artistic ecosystem of the Bronx. In unity there is strength. All events are rain or shine.
The South Bronx Culture Trail Festival (SBCT) is a community arts and education initiative established in 2011 by Casita Maria Center for Arts & Education and Dancing in the Streets that celebrates and captures key moments in the cultural life of the South Bronx. Each year a cohort of partners are invited to contribute to this ever evolving and robust history to visualize a Trail through the neighborhoods of the South Bronx.
This year we welcome to the Trail: BAAD! Bronx Academy of Arts and Dance; Bronx Culture Collective; BronxWorks; Catholic Charities; The Consulate General of Mexico in New York; MAS Productions; the Mexican Cultural Institute; NYC Department of City Planning, Bronx Office; NYC Department of Health's Bronx Neighborhood Health Action Center; NYC Mayor's Office of Immigrant Affairs; NYC Parks; New York Restoration Project; Partnership for Parks; Southern Boulevard BID; The POINT CDC; Third Avenue BID; and Urban Health Plan.
In addition to a cultural celebration, SBCT serves as an economic engine for the community through the hiring of local artists and the promotion of local businesses and tourism to the borough.
"Casita Maria is incredibly proud to lead the development of the South Bronx Culture Trail Festival 2018 in partnership with the Bronx Music Heritage Center, which celebrates the borough's rich and diverse culture with Latin jazz, bomba y plena, hip hop, and Garifuna music and so much more," says said Haydee Morales, Executive Director. "The Festival is a testament to the rich and plentiful talent in the Bronx, as well as an appreciation to the resilient community that continues to give birth to emerging cultural movements."

"The Bronx has an incredible legacy of art and music for its residents to be proud of and which we want to show off to everyone else. The South Bronx Culture Trail and all the participating organizations prove that the Bronx is indeed, RISING!" said Elena Martinez, Folklorist & Co-Artistic Director, Bronx Music Heritage Center.
Learn more at: https://www.casitamaria.org/.
About Casita Maria:
Casita Maria Center For Arts & Education is the first and oldest Latino 501(c)(3) charity in NYC, founded in 1934. The South Bronx-based community arts and educational organization presents diverse, contemporary visual and performing arts and education programming for all ages.
BRONX MUSIC HERITAGE CENTER (BMHC):
The BMBC was founded by the Women's Housing and Economic Development Corporation (WHEDco). The BMHC is committed to preserving and promoting Bronx music, cultivating Bronx artists, spurring neighborhood revival and providing free cultural programs for the community. More information: https://www.thisisbronxmusic.org/.
SOUTH BRONX CULTURE TRAIL ADVISORY COUNCIL MEMBERS:
Bill Aguado, Argenis Apolinario, Alex Aponte*, Arthur Aviles, BG183* (Tats Cru), Benny Bonilla*, Richie Bonilla, Americo Casiano*, Henry Collins, Alvan Colon Lespier, Robert Crespo*, Simon Dove, Jason Dunchin, Elizabeth Figueroa, Ricky Flores*, Adam Green, Elizabeth Hamby, Bethany Hogan, Rolando Infante, Yianna Justo, Michael Kamber, Melissa Libran, John MacElwee, Elena Martn­nez, Kerry McLean, James Melendez, Edwin Pagan, Kathi Pavlik, Danny Peralta, Hatuey Ramos-Fermn­n, Anita Reyes, Marta Rivera, Jose Rodriguez, Rosalba Rolon, Rafael Salamanca, Jr., Bobby Sanabria, Lisa A. Sorin and Grand Wizzard Theodore*.
HONORARY LIFETIME MEMBERS:
Antonio Sergio Bessa, Nancy Biberman, Marcos A. Crespo, Ruben Dn­az, Sr., Jorge Popmaster Fabel,* Al Quin±ones, Tina Ramirez*, Angel Rodriguez*, Robert Sancho*, Eric Soto and Dave Valentin*.
*Casita Maria Alumni.
The South Bronx Culture Trail is supported, in part, by public funds from the New York City Department of Cultural Affairs in partnership with the City Council and Councilmember Rafael Salamanca, the New York State Council on the Arts with the support of Governor Andrew M. Cuomo and the New York State Legislature and New York City Department of Youth and Community Development.
Special thanks to Digital Bodega for filming and post production work and Sal Gigante for the the use of the St. Athanasius Church Courtyard.
*PHOTO Link for Media: Send2Press.com/300dpi/18-0517s2p-sbctrail-300dpi.jpg
*Photo Caption: Family enjoying the South Bronx Culture Trail Festival 2017 on Msgr. del Valle Square, Bronx, N.Y. Credit: Argenis Apolinario.
Twitter: @casitamariabx @bx_music #SBCT #OnTheTrail #SouthBronxCultureTrail
News Source: Casita Maria Center for Arts and Education