BRONX, N.Y., Aug. 21, 2018 (SEND2PRESS NEWSWIRE) — Casita Maria Center For Arts & Education, in partnership with The Consulate General of Mexico in New York, are proud to present "Forgotten" by Mexico City-based artist Jorge Tellaeche, on view September 13 – November 21, 2018.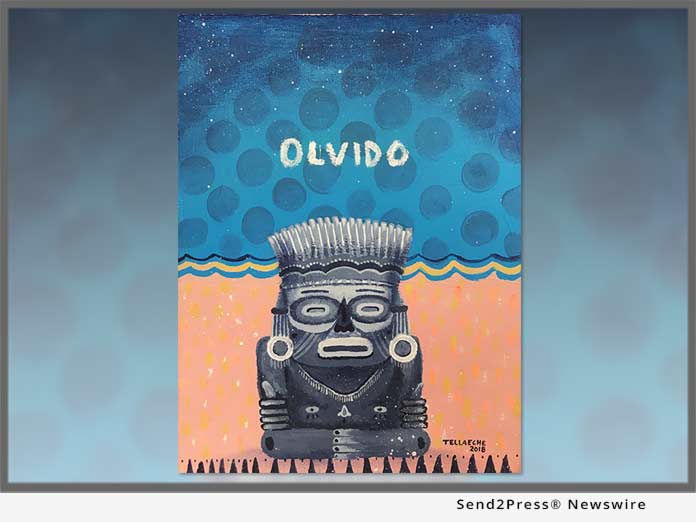 Join us for a Celebration and Artist Talk on September 13 from 5-8 p.m. at the Casita Maria Gallery. The exhibition will include a collection of colorful small acrylic paintings on canvas, wooden sculpture, and an installation filled with organic forms that become totems, characters and alebrijes (mystical Mexican creatures) that reference pop culture and world social issues.
A companion exhibition of artwork created by Casita Maria Summer Campers titled, "Celebration of Nations" will hang in The Young Artist Gallery.
To learn more about Tellaeche's ideas and artistic process we invite young people aged 8-20 to Casita Maria on Saturday, September 15, 2015 from 10-11:30 a.m. for a free workshop titled EQUIPO, (Team in Spanish), where they will create their own alebrije.
This workshop is designed to empower young people through art making – reminding them they are unique and have the power to create.
The workshop is divided into four parts:
Consciousness and Sharing
Music and Individuality
Decision Making
Creativity and Problem Solving.
Through the exhibition and the workshop the artist will be exploring how as a people we have forgotten the importance of worth in our word and honor. Tellaeche feels that "becoming complacent with the times we have turned into a society of broken promises. In a time of apathetic fake news that pushes us to not care, we forget we are humans with rights and that we need each other. This show talks about the desire to reach abundance in love and apathy, remembering where we all come from."
"I can attest to Mexican artist Jorge Tellaeche´s creativity, talent and commitment to empower youth through art," said Diego Gomez Pickering, Consul General of Mexico in New York. "Therefore, it is an honor for the Consulate General of Mexico in New York to collaborate with Casita María Center for Arts & Education to present the exhibit "Forgotten" inviting us to reflect on who we truly are."
"We are all brought to this world to share our uniqueness," says Jorge Tellaeche. "Together as a community we are strong because in our diversity we create a rich picture full of colors and wonder. This collection of pieces are made to balance the conflicting times that we are living in where it seems ok to hate and oppress. It shows faces of different cultural backgrounds, even some made up (magical) to show that we are all the same. Also in this Utopia there are some creatures that in Mexico we call 'alebrijes,' they are a mixture of different animals that are meant to protect us and teach us about teamwork and consciousness."
Learn more about the show: https://www.casitamaria.org/programs/gallery/forgotten
About the Artist:
Jorge Tellaeche is a Mexico City-based artist whose work is honest and intimate. It touches on themes that are relevant to his surroundings, to evoke dialog and self-confrontation. His visual language includes painting, sculpture and murals. His murals have been commissioned by the likes of the Residence of the Ambassador in London, La Lomita in Valle de Guadalupe, and CUNY University in NY, as well as international brands like Adidas, W Hotel, and most recently, Lululemon.
Learn more about the artist: https://www.tellaeche.com/
About Casita Maria;
Casita Maria Center For Arts & Education is the first and oldest Latino 501(c)(3) charity in NYC, founded in 1934. The South Bronx-based community arts and educational organization presents diverse, contemporary visual and performing arts and education programming for all ages. Learn more at: https://www.casitamaria.org/.
About The Consulate General:
The Consulate General of Mexico in New York is the official representation of Mexico in the tri-state area. Its purpose is to protect, defend the rights and interests of, and seek the integration and empowerment of Mexican nationals living in the area. It provides various services such as: documentation (passports, consular ID's, birth certificates, dual nationality, marriage certificates, wills), protection for Mexican nationals, financial education. Information: https://consulmex.sre.gob.mx/nuevayork/index.php/en/.
Twitter: @casitamariabx @ConsulmexNuy @Jorge_Tellaeche
*IMAGE for media: Send2Press.com/300dpi/18-0821s2p-Tellaeche-roots-300dpi.jpg
News Source: Casita Maria Center for Arts and Education