NEW YORK, N.Y., Aug. 24, 2023 (SEND2PRESS NEWSWIRE) — "The Joy of Funerals" (ISBN: 979-8988500018) hailed as "Six Feet Under" meets "Sex & the City" – was originally released in 2003 by St. Martin's Press. In honor of its 20th anniversary, Palagram Press is reissuing the novel on Oct. 2, 2023, to highlight this triumphant milestone with an updated cover and new letter from the award-winning author and New York Times contributor, Alix Strauss.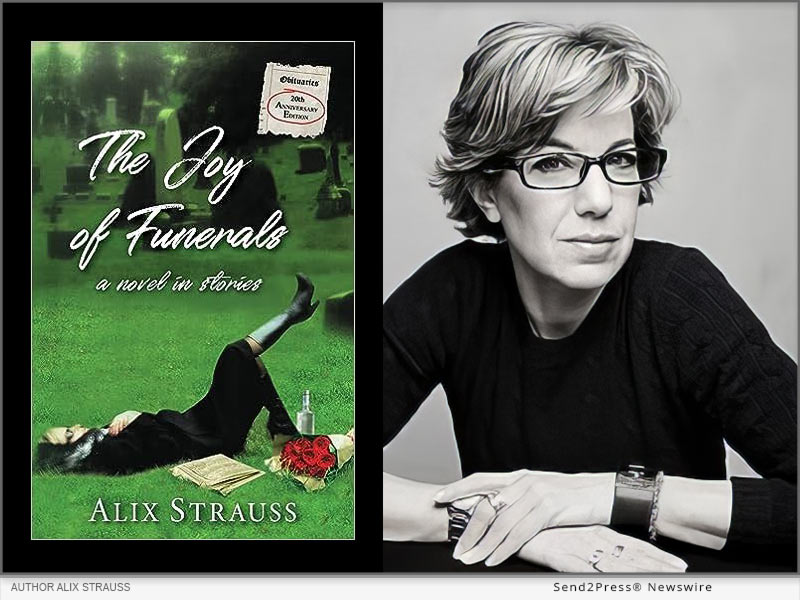 Image Caption: Author Alix Strauss.
"The Joy of Funerals" centers around Nina, a lonely, single, thirty-something Manhattanite who goes to other people's funerals in the hope of connecting with the mourners in an attempt to fill the deep loneliness created by the inability to connect with the people in her life.
The novel highlights the loneliness we all feel as human beings and our deep, innate, and necessary need we have for real relationships – something we are losing. Timing for a rerelease couldn't be more necessary, or perfect, especially after a pandemic, where we have been forced into an unwanted lifestyle of solitude, our deep ache for organic – non zooming, non-device driven, human to human connection has been intensified – we have been mentally, physically, and emotional starved. Much like Nina.
If timing is everything, then the world has caught up with Alix Strauss. It seems that books offering once "taboo" or too-edgy and dark themes are finally having a moment – e.g., "I'm Glad My Mom Died," "Dear Edward," "Bittersweet," "Sorry for Your Loss," and a slew of others, are titles performing well and hitting a nerve right now with readers.
Throughout this powerful and provocative collection, these characters explore the basic need for human connection while seeking to understand themselves better. It is the 'where do I belong' and the 'how do I fit in' that these sad, bright, and amazingly strong women seek to answer.
Written with raw wit, mordant humor and a uniquely penetrating voice, Strauss turns the spotlight on the unattractive subjects of loss, grief, and loneliness. "The Joy of Funerals" is a smart, vivid, and arresting look into the inner world of those left behind, and those still holding on.
ABOUT THE AUTHOR:
Author Alix Strauss is a trend, culture, and lifestyle journalist; an award-winning, four-time published author; and speaker. She is a frequent contributor to the New York Times, among other publications. During the past 25 years she has written over 1,500 articles. Her books include: "The Joy of Funerals" (St. Martin's Press & Palagram Press), "Based Upon Availability" (Harper Collins), and "Death Becomes Them: Unearthing the Suicides of the Brilliant, the Famous and the Notorious" (Harper Collins). She is also the editor of "Have I Got a Guy for You" (Simon & Schuster), an anthology of mother coordinated dating horror stories. Her work has been an option for several TV and film projects. She lives in Manhattan.
You can connect with Alix at https://www.alixstrauss.com/ or @alixstrauss.
"When I first sat down to write this, I wanted to highlight how important and intense our need to connect with each other can be," said Strauss. "I hoped to show the loneliness we can all feel as humans and the deep, innate, and necessary desires we have for real relationships…and what can happen when those don't exist. Two decades later these needs and desires still resonate for me, and it seems, with readers."
The Wall Street Journal called "The Joys of Funerals," "An evocative novel in stories with interconnected characters who are recognizably human. 'The Joy of Funerals' is decidedly about the here and now."
"The Joy of Funerals," on sale October 2, 2023 will be available via Amazon and other online retailers as well as your favorite local bookstore. Pre-orders  are available  wherever books are sold.
Available on Amazon at: https://a.co/d/fSAMcyL
Ms. Strauss is available for interviews, readings, and events.
MEDIA CONTACT:
Ed Bajek
201-560-3831
ed@bajekpublisherservices.com
News Source: Author Alix Strauss