SACRAMENTO, Calif., Nov. 8, 2023 (SEND2PRESS NEWSWIRE) — Today, the California Association of Veteran Service Agencies (CAVSA), a consortium of six non-profit veteran service providers, released its 2023 California Veterans Community Report, providing data and analysis on the current challenges faced by California veterans, highlighting the strides made in the past year, and presenting their advocacy strategy for 2024 and beyond—with a focus on behavioral health and housing initiatives.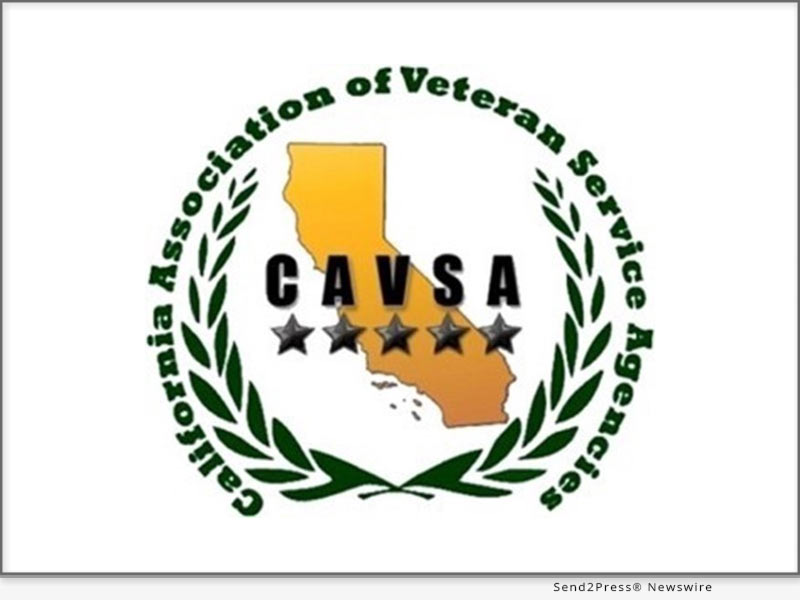 Image Caption: California Association of Veteran Service Agencies (CAVSA).
Key findings from the CAVSA 2023 report reveal a 9% reduction in veteran homelessness in California, trending with the 11% decrease nationally. Despite this progress, 71% of homeless veterans in California are unsheltered, compared to 40% nationally. Alarmingly, veteran suicides have seen a 27% increase in California, with PTSD and self-injury behaviors marking critical areas for intervention.
"CAVSA and its member agencies are dedicated to improving the health and well-being of California's veterans and veteran families and continuously advocate at the state and local level through policy, program, and budgetary initiatives," said Stephen Peck, CAVSA Board President and U.S. VETS President and CEO. "We are proud of the progress made by all those in California working to improve the lives of veterans, yet there is much work to be done. A top priority is the passage of Proposition 1, which includes over $1 billion to house veterans facing behavioral and substance abuse challenges."
With the largest veteran population in the nation, California's 1.38 million veterans represent a significant and diverse community. The CAVSA report is a crucial tool for stakeholders across the state, from policymakers to local leaders, to grasp the multifaceted issues facing veterans and to champion their cause.
CAVSA 2023 report highlights include:
The number of veterans experiencing homelessness in California decreased 9% from 11,401 in 2020 to 10,395 in 2022. Nationally, it decreased 11%.
Roughly 33% of the nation's veterans experiencing homelessness are in California.
In California, about 71% of homeless veterans are unsheltered compared to 41% nationally.
Los Angeles City and County have the highest number of unsheltered homeless veterans by a significant margin at 2,721, with San Jose/Santa Clara City and County following with 520 veterans.
In California, the number of veterans who died by suicide increased 27%, from 439 in 2020 to 559 in 2021.
Roughly 4.2% of veterans nationally report an incidence of nonsuicidal self-injury in their lifetime. Applied in California, an estimated 57,960 veterans have performed self-harming behavior.
An estimated 96,600 California veterans will experience Post Traumatic Stress Disorder (PTSD) in their lifetime.
In 2022, CAVSA's six member agencies pulled in over $81 million to the state from federal agencies such as the Department of Housing and Urban Development, Department of Labor, Department of Veteran Affairs, Department of Health and Human Services, Department of Homeland Security, and the Federal Emergency Management Agency. CAVSA members also secured an additional $77 million from multiple sources – federal, state, local, and private – specifically to build housing and service sites.
"CAVSA member agencies understand veterans and the root causes of homelessness in this community—disability, poverty, unemployment, mental health, and substance use are just a few barriers to stability and are all more common among veterans diagnosed with traumatic brain injury or PTSD," said Chuck Helget, Executive Director of CAVSA. "We know what they go through, which is exactly why we advocate for increased funding for veteran mental health, support services, housing, and other resources."
Looking forward, CAVSA will use the data and research provided in this report to advocate for:
The passage of Proposition 1, the Behavioral Health Infrastructure Bond, which includes over $1 billion to house veterans who have behavioral health needs or substance use disorders.
Increased general funding and allocation of Behavioral Health Services Act (BSHA) funding for veterans' mental health, substance abuse treatment, and suicide prevention.
Expanded state and federal funding supportive services for veterans experiencing or exited from homelessness, especially to improve utilization of HUD-VASH vouchers.
Increased resources and services for aging veterans, including the Veterans Support to Self-Reliance (VSSR) program.
Enhanced veteran suicide prevention measures.
Increased local advocacy and engagement to raise awareness and funding and increase local impact.
A full copy of the annual report, which includes additional data, CAVSA member efforts, and veteran success stories, can be accessed here: https://californiaveterans.org/about/2023-annual-report/.
About California Association of Veteran Service Agencies (CAVSA):
Founded in 1995, the California Association of Veteran Service Agencies (CAVSA) is a consortium of six non-profit veteran service providers working in partnership to address the needs of California's veterans. Partner organizations include U.S. VETS, Swords to Plowshares, Nation's Finest, California Veterans Assistance Foundation, Veterans Village of San Diego, and New Directions for Veterans. Learn more: https://californiaveterans.org/.
###
MEDIA ONLY CONTACT:
(not for print or online)
Kayla Cannon kaylau@strategies360.com
News Source: California Association of Veteran Service Agencies