TORONTO, Ontario, Canada, March 13, 2023 (SEND2PRESS NEWSWIRE) — Renowned life coach and psychotherapist Misha Saidov has created a system that can help you become the hero of your own life. Such promises have been made by others in the past. However, Misha Saidov's latest project, "The Efficiency Journal" (IBSN: 978-0228887645; Released February, 2023) sets itself apart. More than a book, "The Efficiency Journal" is a first-of-its-kind toolkit that uses proven scientific methodologies to help you achieve results. He and his team have removed all the technical mumbo-jumbo and focused on four simple principles: planning, introspection, gratitude, and reward.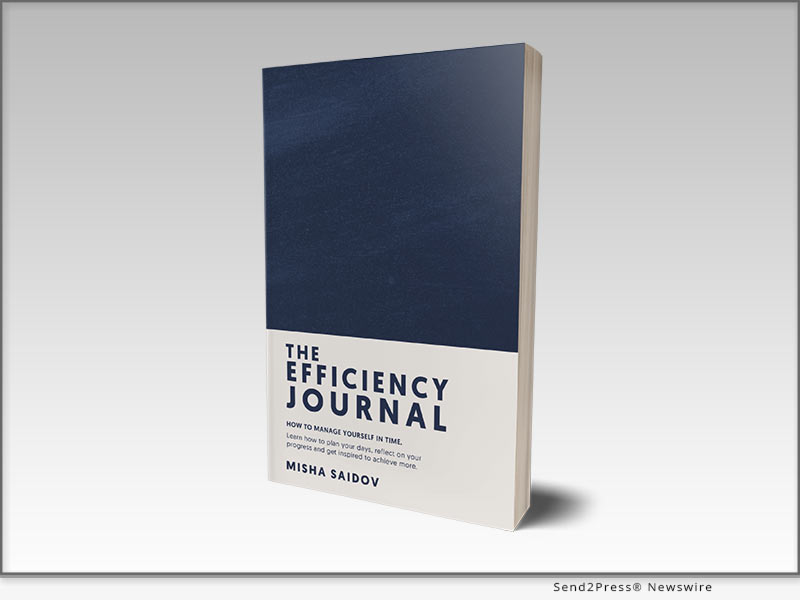 Image Caption: "The Efficiency Journal."
The book is designed to assist you in setting important goals, reaching them, and winning. There is support material to help you through your transformative journey, especially when you find yourself lost or confused – "The Efficiency Journal" will help you stay on course. Readers are not required to adhere to a strict schedule – instead, they are directed to complete three key daily tasks and set goals that fit into 12-week sprints – with the opportunity to reflect on results once every week.
Science tells us that our results come from our character and that character is built daily through voluntary actions. This means you have the ability to create better results from within. With "The Efficiency Journal" you will learn to manage your energy and analyze your actions, achievements, and experiences.
Misha Saidov, a life performance coach and author, is the founder of IMCP (Institute of Metacognitive Programming) and Think Meta, a coaching company that conducts 4000+ client sessions per month.
For more information visit: https://thinkmeta.ai/
BOOK SUMMARY:
Author: Misha Saidov
Email: info(@)thinkmeta.ai
Website: Think Meta – a life performance coaching company – https://thinkmeta.ai/
Buy Link (Amazon): https://a.co/d/gOdkuMk
Genre: Self-Help
Released: Feb 28, 2023
PAPERBACK ISBN-13: 978-0228887645
Publisher: Tellwell (www.tellwell.ca)
###
UPDATED 11:32 a.m. PDT 3.13.23
News Source: Misha Siadov