LOS ANGELES, Calif., Nov. 21, 2023 (SEND2PRESS NEWSWIRE) — Disasters, whether great or small, do not comply with the calendar. And whether the scope of the difficulty affects a single family, or hundreds of thousands or more, Scientology Volunteer Ministers live by the motto that no matter the difficulty, "Something Can Be Done About It."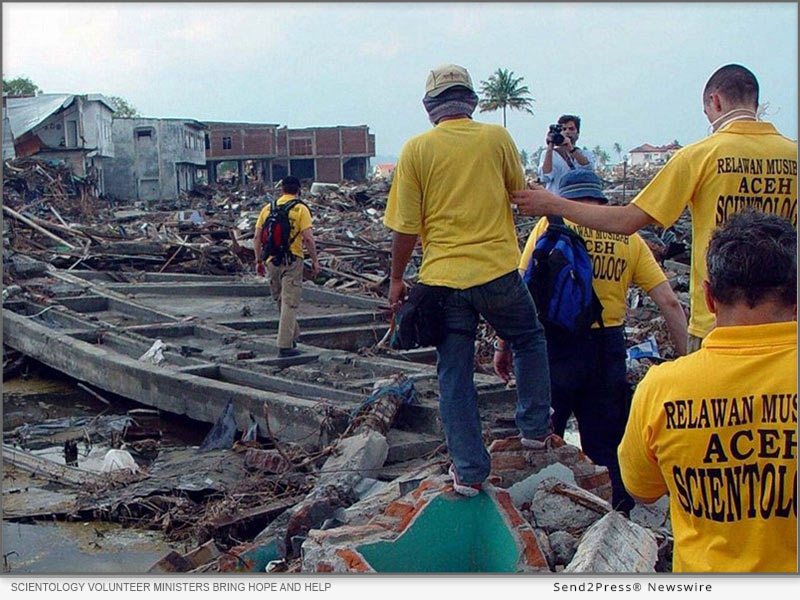 Photo Caption: No matter where, no matter when, Scientology Volunteer Ministers and the Scientology Tools for Life bring hope and help.
Case in point was Christmas 2004. On December 26, a series of earthquakes triggered tsunamis: Towering walls of water 98 feet (30 meters) high crashed down on villages and cities of Indonesia, eastern India, Thailand and Sri Lanka, killing more than 230,000.
Within days, some 600 Scientologists from 28 nations arrived in the region where they brought help to 300,000 people devastated by the catastrophe. The work of these Volunteer Ministers served as a model for the organization and administration of Scientology disaster response operations at subsequent major catastrophes.
When tens of thousands were displaced by the 6.4 magnitude earthquake in Croatia two days before New Years 2021, Volunteer Ministers from the Churches of Scientology of Italy and Hungary filled their bright yellow vans with urgently needed supplies and headed out to help.
When a 160-foot-wide tornado decimated Mayfair, Kentucky, two weeks before Christmas in 2021, all but erasing the town from the map, Volunteer Ministers from the Scientology Churches in Nashville, Tennessee; Cincinnati, Ohio; and Twin Cities, Minnesota put their own holidays on hold and arrived with supplies and equipment. They filled U-Hauls with 100 generators, heaters and propane tanks, erected their bright yellow tents, and immediately set to work helping residents recover what they could from the rubble and plan for the future. They connected with other nonprofits and helped prepare and distribute thousands of hot meals, including Christmas dinner, to residents and volunteer workers.
But physical damage is only one aspect of the impact of disasters. When faced with tremendous loss, those affected often suffer from despair and hopelessness, making it virtually impossible for them to confront their situation and take effective action to rebuild their lives. That is where the skills of the Volunteer Minister are vital.
Volunteers are trained in technology developed by Scientology Founder L. Ron Hubbard called Scientology assists. Assists are techniques that relieve distress by addressing the emotional and spiritual factors of trauma.
To make this technology available to everyone, anywhere and at any time, the spiritual technology contained in the Scientology Handbook, the textbook of the Volunteer Minister, has been made available as free courses in 18 languages through the Scientology website at Scientology.org. Anyone can log on and learn the skills that enable these volunteers to produce such remarkable change in the state of mind of victims of disaster.
Brief videos introducing the chapters of the Scientology Handbook are available on the Scientology Network, along with a documentary on the work of Volunteer Ministers who served in the aftermath of the 2015 earthquake in Nepal.
The Church of Scientology Volunteer Ministers program is a religious social service created in the mid-1970s by Scientology Founder L. Ron Hubbard.
A Volunteer Minister's mandate is to be "a person who helps his fellow man on a volunteer basis by restoring truth and spiritual values to the lives of others." Their creed: "A Volunteer Minister does not shut his eyes to the pain, evil and injustice of existence. Rather, he is trained to handle these things and help others achieve relief from them and new personal strength as well."
LEARN MORE:
https://www.scientologynews.org/press-releases
https://www.volunteerministers.org/
https://www.scientology.org/how-we-help/volunteer-ministers/
https://www.scientology.tv/films/scientology-principles/tools-for-life.html
MULTIMEDIA:
https://www.youtube.com/watch?v=Su1NKhyhIp8&t=1s
PHOTO link for media: https://www.Send2Press.com/300dpi/23-s2p-1121-s2p-costools-300dpi.jpg
Photo Caption: No matter where, no matter when, Scientology Volunteer Ministers and the Scientology Tools for Life bring hope and help.
TAGS: #ChurchofScientology #ScientologyVolunteerMinisters #HolidaySeason #DisasterResponse
News Source: Church of Scientology International