NEW YORK, N.Y., July 17, 2018 (SEND2PRESS NEWSWIRE) — National Retirement Programs, Inc. and its wholly owned subsidiary AtPrime Media Services, the creator of PensionInspector.com, introduces "Form 5500 Prestige Vision," an addition to its, super easy to use, replacement for the U.S. Department of Labor's ERISA Form 5500 Download Service "ERISA Plus Dashboard."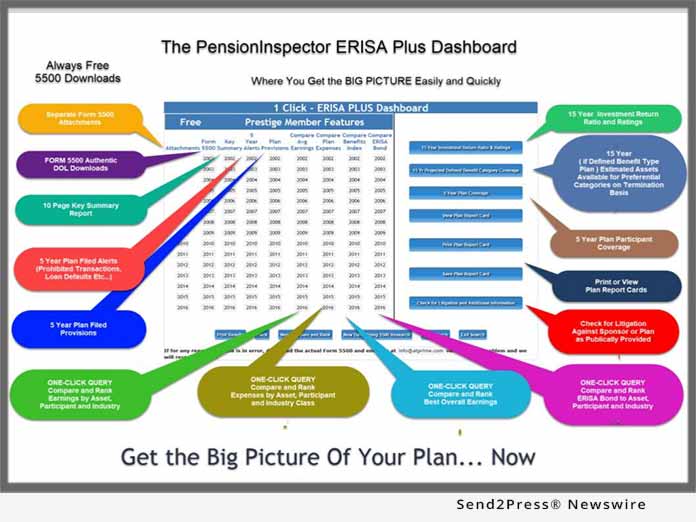 The ERISA Plus Dashboard provides FREE, extra easy to use online access, for each user, up to 15 years of Department of Labor created, Plan Sponsor attested, Annual Reports (Complete Form 5500 Series with Attachments). Introducing the economy Form 5500 Prestige Vision upgrade that integrates Retirement Plans past and current filings to provide the user with the BIG PICTURE with each Plan download.
ERISA Plus Dashboard Demo (PDF): https://www.pensioninspector.com/EPD_demo.pdf
The Pension Inspector is especially useful to those users who find it difficult to utilize and download ERISA Retirement and Welfare Plans from the current Department of Labor's Form 5500 download page.
The Pension Inspector is one of the largest, and oldest (2017) historical data integrated, ERISA Form 5500, On-Line Data Resource, on the Internet, providing Member's 15 years of FREE Form 5500's downloads with complete Attachments, covering more than 10 Million ERISA Retirement and Welfare Plans.
The ERISA Plus Dashboard features FREE 15 Year, One Screen view, per Plan, which includes:
A Simplified Plan Selection Process, featuring a simple phrase requirement to download (2 letter minimum) any Plan.
A Graded User input Screen (Beginner, Enhanced, Professional)
All selected Plan's historical Form 5500's and Attachments are contained on one (1) screen.
An Enrolled Actuary to assist all Members.
The Pension Inspector's new "Form 5500 Prestige Vision" is an important breakthrough addition to ERISA Data Mining Online applications because it seamlessly integrates each Plan, with data for up to 15 years allowing the user to quickly benefit from the continuous performance review which contains, trends, ratings, plus prior Plan triumphs and failures.
All Form 5500 Downloads are FREE for Pension Inspector Members. A Trial Version of the "Form 5500 Prestige Vision" is provided (Free) to all Members.
"Form 5500 Prestige Vision" provides For Each Retirement Plan downloaded:
A 5 Year Key, 10 Plus Page Summary Report of the Plan's Operations Report.
A 5 Year Plan Alert of Transactions and Plan Testing Failures Reported on Previous 5500 filings of the Plan Schedule.
A 15 Year Average Investment Return Rating Report containing 6 Metrics and Ratings and Trends.
A 5 Year Reported Plan Specifications for each Year Reported
4 1-Click Earnings, Expense, Bonding and Best in Class, On-Line Plan Performance Queries.
A Retirement Plan Enrolled Actuary, Enrolled to practice before the IRS, DOL and PBGC to assist and maximize Member's sessions.
To celebrate the 11th year of The Pension Inspector, the 1 year ERISA Plus Dashboard subscription price is reduced from $349 to $199 and the vaunted 5 Star Data Mining program is provided FREE (a $649 value),until August 31, 2018.
The Pension Inspector's 5 Star Data Mining package includes 3D Data Mining, 3D Compare Rank and Compare Program, Crow's Nest Overview, Special Data Mining Reports and More. The bonus cost for a 1 year Subscription is $199 a saving of 80 percent.
Other Pension Inspector Programs available are: CPA Audit Assistant, and Online Database Download.
David J. Tananbaum, Veteran Employee Plan Actuary and creator of the Pension Inspector Internet Application commented: "An ERISA Plan's Annual Report, Form 5500, is an Island Unto Itself. To view the Big Picture of each Plan, you must Unlock the Island.
Log on to https://www.pensioninspector.com/ and get the Big Picture with a time saving review of Key Prior and Current Transactions, Alerts, Key Historical Performance Trends, and Ratings".
The Pension Inspector was established in 2007 by David J. Tananbaum, Enrolled Actuary, Member of the American Academy of Actuaries (MAAA), Fellow of the Conference of Consulting Actuaries (FCA), and Member of the American College of Pension Actuaries (ACOPA).
Mr. Tananbaum has extensive experience of more than 40 years in representing Retirement and Welfare Plans before the IRS, DOL and PBGC. Mr. Tananbaum's experience includes creating, installing, servicing and, advising Plan Sponsors as well as completing Forms 2950 through the current Form 5500 Series.
Mr. Tananbaum's has successfully represented, for more than 40 years, as founder of National Retirement Programs, Inc., small and mid-size Plans including a Multi-National U.S. division before the IRS (reversing 5 years of disallowance after the company lost a major lawsuit before the IRS prior to Mr. Tananbaum's engagement).
Learn more about the company and products/services at: https://www.pensioninspector.com.
* Image link for media: Send2Press.com/300dpi/18-0817s2p-pensinp-erisa-300dpi.jpg
News Source: National Retirement Programs, Inc.