LOS ANGELES, Calif., Oct. 10, 2023 (SEND2PRESS NEWSWIRE) — It hits the head with the force of a 40-pound cinder block dropped seven and a half feet. It's been described by patients as a grenade going off in your body. It's called electroconvulsive therapy. And the truth of this violent practice is revealed in the original documentary Therapy or Torture: The Truth About Electroshock, featured on World Mental Health Day, October 10, at 8 p.m. ET/PT on the Scientology Network.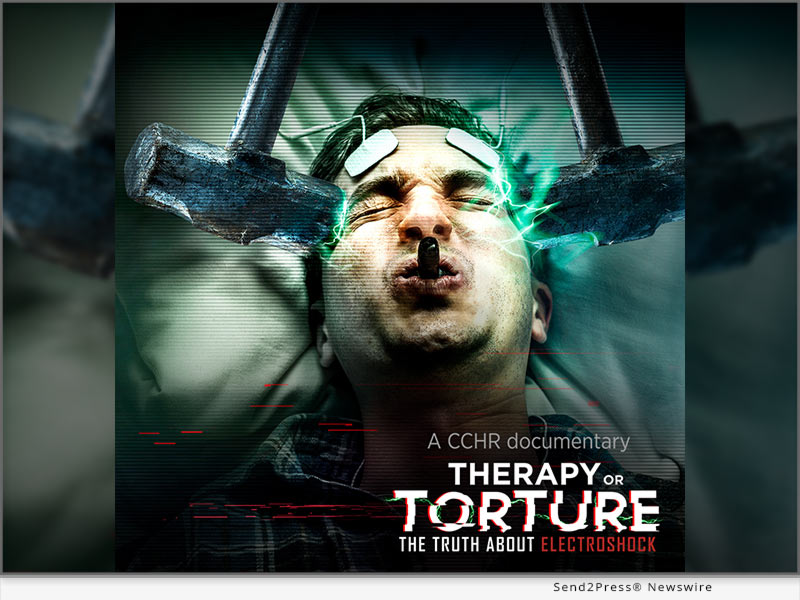 Photo Caption: Learn the truth about ECT on "Therapy or Torture: The Truth About ECT" on the Scientology Network on World Mental Health Day.
Man-on-the-street interviews show most people have no idea this barbaric practice is still in use. Yet electroshock or ECT (the initials stand for electroconvulsive therapy) is not an antiquated medical practice of some bygone era. The stark truth is that ECT is inflicted on a million people worldwide. Every year.
Side effects of ECT include amnesia (substantial and permanent memory loss), confusion, disorientation, apathy, disinterest, headaches, nausea, slowed reaction time, lowered intellectual function, and death.
In a single shock treatment, the psychiatrist sends up to 460 volts through the brain of the patient. Putting this into perspective, the human brain operates on 0.2 volts — eight times less than the 1.5 volts of a watch battery — so ECT inflicts the patient with 2,300 times the electricity the brain uses to function.
Therapy or Torture: The Truth About Electroshock is a gripping exposé of the $5.4 billion ECT business, its history, practitioners and devastating results, revealed in graphic detail.
The film is a Citizens Commission on Human Rights (CCHR) documentary, part of an ongoing investigative series to educate the public on abuses of psychiatry. Other CCHR documentaries expose the truth about the marketing of psychotropic prescriptions, the dangers of those drugs and the psychiatric industry's terrifying history.
Citizens Commission on Human Rights was cofounded in 1969 by professor of psychiatry Dr. Thomas Szasz and the Church of Scientology. With headquarters in Los Angeles, California, CCHR International guides a global human rights advocacy network of some 180 chapters across more than 30 nations. CCHR Commissioners include physicians, psychiatrists, psychologists, lawyers, legislators, government officials, educators and civil rights representatives.
The Scientology Network debuted on March 12, 2018. Since launching, the Scientology Network has been viewed in over 240 countries and territories in 17 languages. Satisfying the curiosity of people about the Scientology religion and Founder L. Ron Hubbard, the network takes viewers across six continents, spotlighting the everyday lives of Scientologists, showing the Church as a global organization, and presenting its social betterment programs that have touched the lives of millions worldwide. The network also showcases documentaries by independent filmmakers who represent a cross section of cultures and faiths but share a common purpose of uplifting communities. Scientology Network's innovative content has been recognized with more than 125 industry awards, including Tellys, Communitas and Hermes Creative Awards.
Broadcast from Scientology Media Productions, the Church's global media center in Los Angeles, the Scientology Network is available on DIRECTV Channel 320, DIRECTV STREAM, AT&T U-verse and can be streamed at Scientology.tv, on mobile apps and via the Roku, Amazon Fire and Apple TV platforms.
LEARN MORE:
https://www.scientology.tv/schedule/
MULTIMEDIA:
https://www.scientology.tv/series/cchr-documentaries/therapy-or-torture-the-truth-about-electroshock.html
https://www.youtube.com/watch?v=6r6WexwhZVM
PHOTO link for media: https://www.Send2Press.com/300dpi/23-1010-s2p-costherapy-300dpi.jpg
Photo Caption: Learn the truth about ECT on "Therapy or Torture: The Truth About ECT" on the Scientology Network on World Mental Health Day.
TAGS: #ChurchofScientology #WorldMentalHealthDay #ScientologyNetwork #psychiatry #TherapyorTorture #TheTruthAboutECT #shocktreatment #ECT #CCHR #CitizensCommissiononHumanRights
News Source: Church of Scientology International