NEW YORK, N.Y. and SINGAPORE, Sept. 26, 2023 (SEND2PRESS NEWSWIRE) — BypassGPT, a progressive leader in AI content humanization, has entered the market as the ultimate solution to bypassing AI detection. The cutting-edge AI detection remover tool is capable of accurately analyzing and modifying text to remain undetectable by AI detection tools, helping a wide range of users enhance and streamline their work, such as freelancers, students, businesses, and more.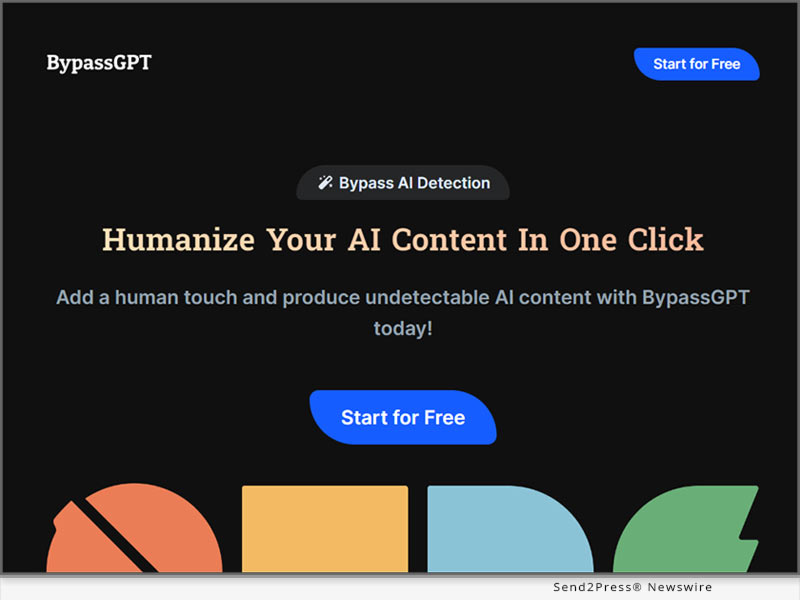 Image Caption: BypassGPT – Humanize Your AI Content in One CLick.
"Our mission is to help users bypass AI detection by humanizing their AI-written content with trailblazing technology that intelligently analyzes and restructures AI-generated content while preserving its original meaning," says Haley Ott, CEO of BypassGPT.
The need for a powerful rewriting tool capable of bypassing AI detection is constantly growing and evolving. There are many reasons why users may need to bypass AI content detection, such as due to privacy concerns, to comply with AI detection policies, or to avoid scrutiny. In addition, AI-generated content that does not pass AI detection is at risk of penalties by search engines in the future. AI-generated content is constantly improving, and with BypassGPT, it is now completely undetectable.
Getting AI-generated content past AI detectors poses a challenge. AI detectors work by identifying specific characteristics within text, such as irregular sentence length and low levels of randomness in word choice. While these tools are not 100 percent accurate, they have been proven highly proficient at recognizing AI-generated content by using reverse engineering language patterns to recognize predictive text.
"BypassGPT is capable of overcoming these limitations, making it an effective and innovative solution to enhancing AI-generated content," states Haley.
BypassGPT works by ensuring that AI-generated content is not flagged by AI checkers like GPTZero, ZeroGPT, OpenAI's Text Classifier, Copyleaks, Content at Scale, and Winston AI. The utilization of advanced algorithms allows the state-of-the-art platform to imitate the writing style of a professional human writer. More efficacious than other AI detection removers on the internet, BypassGPT has become the leading AI detector rewriter on the market.
More than an undetectable AI writer, BypassGPT also includes additional content to provide the user with added value. Advanced techniques enable the tool to improve and expand upon existing AI models to generate original and engaging content.
While most AI detection remover tools simply spin content, often resulting in low-quality content that does not always avoid detection, BypassGPT creates quality, authentic content using an ingenious AI model that has been meticulously trained by professional human writers.
BypassGPT can be used with all types of AI-generated content, including content from the leading AI-powered content creation programs, ChatGPT, GPT-4, and Bard. This tool can be a powerful asset to entrepreneurs, content creators, and other professionals. It has also been proven highly advantageous in many sectors, including advertising, marketing, and research.
Learning how to leverage the power of BypassGPT to bypass AI detection is as easy as a few clicks of a button. To make AI text undetectable with BypassGPT, users simply need to copy their original, AI-generated content into the BypassGPT portal. Just one click of a button starts the unique BypassGPT process. In mere moments, the user is delivered rewritten content that they can use anywhere they would like.
About BypassGPT:
BypassGPT is quickly transforming the AI writing industry with its impeccable AI detection remover tool that bypasses all AI detectors and produces higher-quality content than what is available from other AI tools. In just a short amount of time, it has earned a reputation for being effective, reliable, and capable of delivering completely undetectable content. To add a human touch to AI-generated content, try BypassGPT.
LEARN MORE: https://bypassgpt.ai/
MULTIMEDIA:
Image link: https://www.Send2Press.com/300dpi/23-0926-s2p-BypassGPT-300dpi.jpg
News Source: BypassGPT