NEW YORK CITY, N.Y., Oct. 26, 2023 (SEND2PRESS NEWSWIRE) — How does a father's dreams for his daughters influence his technology career toward the pursuit of AI excellence? Why do inclusivity and democratization matter now more than ever, and how can we ensure a fairer future for all? Gabe Moronta announced as featured speaker for the upcoming AImpact 2023 virtual conference on November 7-9, 2023.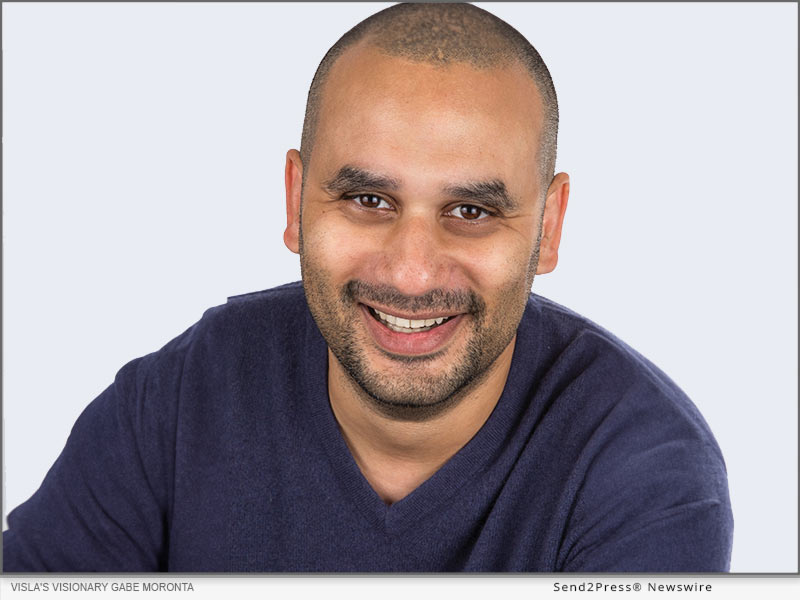 Image Caption: Visla's Visionary Gabe Moronta, Announced as Speaker for AImpact 2023.
Beyond AI is a Father's vision for a fairer future…
The end of 2020 marked a significant shift in the tech world. The founding engineer and chief scientist of Zoom, Huipin Zhang, left to form his own startup, Visla. A year later, fellow Zoom stalwart, Gabe Moronta, followed suit to join him.
Their shared vision? To simplify the production of professional quality video at scale. Personally, they wanted to rekindle the thrill of being part of an early-stage startup that changes the world. Both believe that business can be about more than a monetary pursuit; it's an example of your beliefs in action.
Leveling the Playing Fields: A Personal Mission
For Gabe, the promise of AI isn't just about technological prowess or business success; it's about creating a world where his daughters can thrive without facing the same barriers women before them did. A world where the playing field is truly leveled for everyone, irrespective of their gender, background, or circumstance.
Gabe's perspective on AI and its potential is deeply intertwined with his personal experience. "Despite my wife's relentless dedication and hard work, she's had to work tenfold harder than her male counterparts, only to earn significantly less. I don't want that to be my daughter's future. Hopefully, with AI, we can change the playing field for everyone."
Democratizing Creative Choice
Visla's unique proposition lies in its ability to give control back to the user. Whether it's extracting the essence of a video call, personalizing your video library prompt, or getting AI to conceptualize and generate your video based on a simple prompt, Visla ensures that the end product is a reflection of the user's vision.
It's about democratizing creative choice to ensure that the next generation, and every generation after, step into a world that values merit over bias, potential over prejudice, and dreams over disparities.
Championing Change: Gabe's Quest for Inclusivity in the AI Realm
Inclusivity and equality aren't just about creating tools, but about contributing to spaces where every voice is heard and valued. It was this shared vision that led him to cross paths with the effervescent Hailey Wilson.
They met at a virtual event, and then in real life at MAICON 2022 – but both felt like they'd known each other for years. Gabe was compelled by Hailey's "How can I help you?" approach and her desire to bridge the gap between AI novices, experts, and everyone in between.
Hailey was creating the type of inclusive space for the fearful and the futurists that was exactly what Gabe had been looking for. Within the AImpact community, Gabe found not just professional alignments but confluences of shared ideals and hope for an empowered future for everyone. Their conversations culminated in his involvement with AImpact 2023 as a speaker.
"True progress is made when we champion not just our dreams, but the dreams of those around us," says Moronta.
Like Visla and AImpact, Gabe's commitment to democratizing creativity is intrinsically tied to fostering communities that empower and uplift women.
AI Enthusiasts Unite!
AImpact 2023 is geared towards ground-breaking insight, real-world applications, and promoting responsible AI practices. With a diverse mix of industry experts, technologists, authors, and enthusiasts, the conference is also set to create a unique crowdsourced AI white paper – by all the attendees as contributors.
In his AImpact 2023 talk, "Generative AI: Fact vs Fiction, The Journey Ahead, Not The Final Destination," Gabe emphasizes that the path of AI is unknown and constantly changing. And that's the beauty of it!
The full spectrum of possibilities hasn't even occurred to us yet; Gabe believes it's going to be better than we can even imagine.
AI in all its facets: with products like Visla, pioneers like Gabe, and people like Hailey Wilson with her AImpact community, is a call to the brave.
It's an invitation to those willing to embark on a wild ride with a destination that changes before our very eyes, supported by an unwavering belief that together, we get to rewrite a fairer future for all.
VIDEO (YouTube): Visla Video Storytelling Platform Feature Introduction – https://www.youtube.com/watch?v=pnfDeQvwZmQ
AIMPACT 2023 EVENT INFORMATION:
Learn more: https://www.aimpactevent.com/
Speakers: https://www.aimpactevent.com/speakers
###
MEDIA ONLY CONTACT:
(not for print or online)
Lauren Wallett
Malva PR
Lauren@ilovemalva.com
Instagram @malvapr
News Source: AImpact