SEATTLE, Wash., Nov. 1, 2023 (SEND2PRESS NEWSWIRE) — The e-commerce market is one that's rapidly changing and many businesses are struggling to keep up with tracking insight into the market-consumer relationship. Stumbling blocks range from high research costs and closed consumer data to fragmented analysis models. This is where the newly-launched Voc.ai chatbot comes in to play.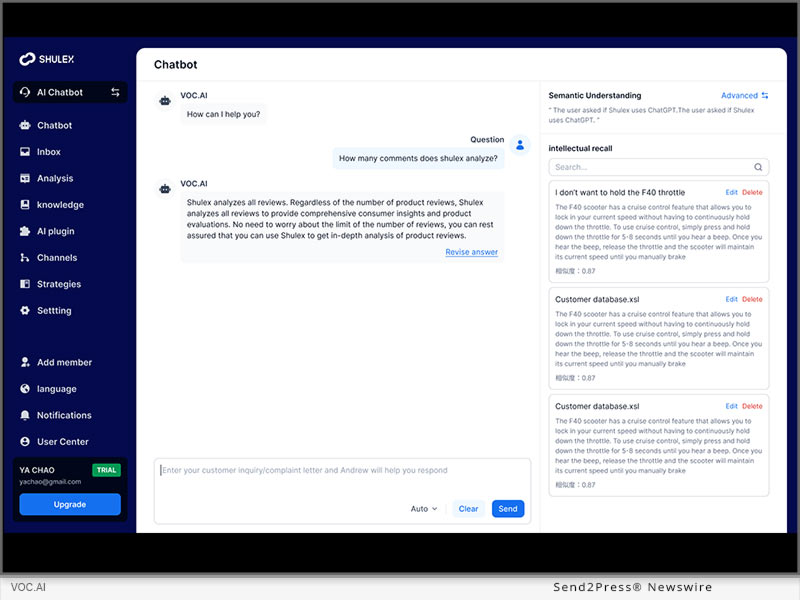 Image Caption: Voc.ai interface – Chatbot.
Voc.ai, a Hong Kong-based cutting-edge AI SaaS company, has recently secured more than $12 million in funding from top-tier investors to accelerate new market growth and expansion.
Its chat-GPT based approach can help e-commerce, brands, retail, finance and gaming businesses on multiple fronts while building the consumer-brand relationship across the globe. The Voc.ai chatbot consistently communicates across time zones and in multiple languages. It quickly resolves repetitive issues and even identifies solutions for complex issues, freeing up live employees for more complex issues such as refunds and returns.
To date, more than 100,000 e-commerce sellers, including many Amazon super sellers, have chosen to use Voc.ai SaaS products and browser plug-ins.
With the Voc.ai chatbot, customers now have a new and powerful AI tool that can simultaneously handle one thousand plus service tickets for email, chat and other service channels. It can be used for multi-modal and multi-scenario brands too, creating unified service standards and images. It's a simple tool that manages the process and can also analyze customer requirements, implement communication, troubleshoot and resolve problems in the entire chain.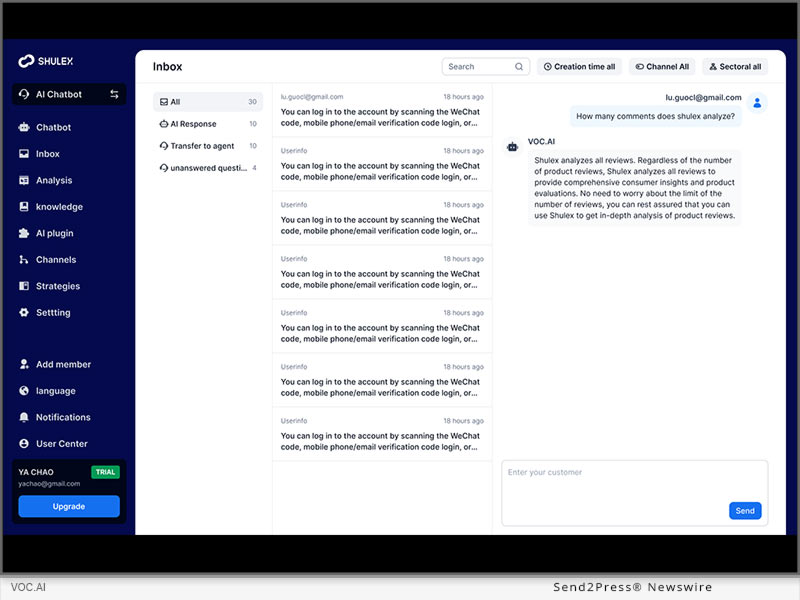 Image Caption: Voc.ai interface – Inbox.
In addition to gathering Internet information, this AI chatbot which provides conversational service, is also trained based on internal enterprise data. Only by combining internal knowledge and external information can the problem closure rate reach 80 percent.
There's also no need for businesses to replace their existing work order system, mail or chat tool. Voc.ai is simply an integrated service to empower the customer service process.
"Businesses that choose to use Voc.ai chatbot will also be more efficient, save money and stay ahead of the curve when it comes to keeping up with innovative e-commerce tools and trends," Hunter Guo, Voc.ai founder, says.
One company, Anker Innovations, one of the largest third-party brand sellers on Amazon, recently implemented the program to solve a multitude of customer service problems that were taking excess time and required a large manpower fleet.
Voc.ai provided Anker with a copilot full-link solution, including underlying data acquisition, enterprise-level AI knowledge base, VOC web-side and plug-in suite, multichannel customer service workbench, and an MI sales forecasting system. The service AI chatbot now covers all products and all countries and the resolve rate is more than 70 percent. Through the email channel, 85 percent of customer complaints are resolved through AI chatbot, and the connection with the internal system is fully automated. And, the company saved 50 percent in manpower.
Voc.ai chatbot is available for personal, team or enterprise use. To learn more or to sign up for a free trial or demo: https://www.voc.ai/
MULTIMEDIA:
Image links for media:
[1] https://www.Send2Press.com/300dpi/23-1101-s2p-vocai01-300dpi.jpg
Caption: Voc.ai interface – Chatbot.
[2] https://www.Send2Press.com/300dpi/23-1101-s2p-vocai02-300dpi.jpg
Caption: Voc.ai interface – Inbox.
MEDIA CONTACT:
Chris Zhao
of Voc.ai
+86-18684830125
chris.zhao@shulex-tech.com
News Source: Voc AI