LOS ANGELES, Calif., Aug. 24, 2023 (SEND2PRESS NEWSWIRE) — Each year, the Church of Scientology of Los Angeles holds an awards ceremony and banquet for World Humanitarian Day to honor local Volunteer Ministers and the volunteers of other Los Angeles nonprofits deserving of recognition. The Scientology Volunteer Ministers program is a religious social service created by Scientology Founder L. Ron Hubbard to provide help whenever and wherever needed.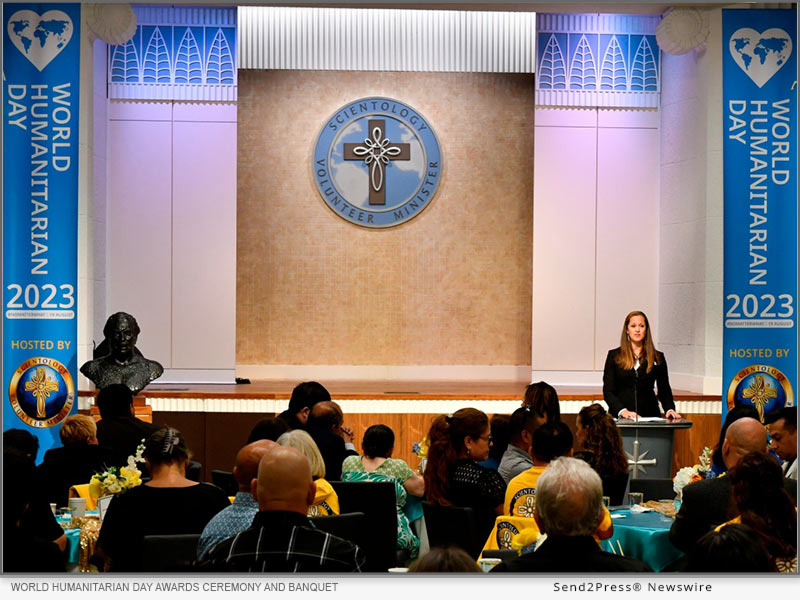 Photo Caption: World Humanitarian Day awards ceremony and banquet at the Church of Scientology Los Angeles.
World Humanitarian Day is set aside by the UN as "a global celebration of people helping people" recognizing them for delivering aid despite the challenges and their commitment to serve #NoMatterWhat.
Among those represented at this year's ceremony were volunteers of nonprofits that partner with the Church of Scientology in its many outreach and community betterment programs, including Tlaxcaltecas USA, the Central American and Guatemalan Migrant Network, Fundacion Un Pedacito de Cielo, MIRO Women's Support Group, New Challenge Ministries, El Salvador Foundation, Unidos Por Una Misma Causa, Conceptos Productos Naturales, and the Helping Hands Society of Los Angeles.
The Church of Scientology Los Angeles partners with these nonprofits to provide weekly food drives to L.A. families experiencing food insecurity and to hold cultural festivals and outreach activities that address pressing social issues affecting Los Angeles families.
In an episode of Inside Scientology on the Scientology Network, one volunteer says "I feel like our purpose as Scientologists is to better the lives of people around us." "The whole point of these social betterment campaigns and groups is to create a better Los Angeles," says another.
Easily recognized by their bright yellow shirts and their can-do spirit, the Scientology Volunteer Ministers who were recognized at the World Humanitarian Day ceremony were on call this week. Meteorologists predicted "life-threatening and potentially catastrophic flooding" for Los Angeles. Fortunately, the storm passed over the region with minimal damage, but with September and October the most vulnerable months for wildfires, local Volunteer Ministers remain ready to respond at a moment's notice.
The work of the Volunteer Ministers is described in the Inside Scientology episode by a member of the Los Angeles County Fire Department. "The firefighters came back and quickly recognized that the best place to get the type of support needed was the folks wearing the yellow shirts," he says. And it wasn't just the supplies that they appreciated. It was their "generosity and kindness."
But these Los Angeles-based Volunteer Ministers don't simply serve the greater Los Angeles area. "They go anywhere in the world, whether it is far or near," according to a Church executive interviewed in the episode. "They go and help people put their lives back together." "Making a difference in the world is what it's all about," says another staff member.
Originally founded in 1954, the newly configured headquarters of the Church of Scientology Los Angeles was dedicated by Scientology ecclesiastical leader Mr. David Miscavige in 2010 as an Ideal Scientology Church, serving Scientologists in their ascent to spiritual freedom and as a home for the entire community — a meeting ground of cooperative effort to uplift people of all denominations.
For more information, watch Inside a Church of Scientology on the Scientology Network or visit the website of the Church of Scientology Los Angeles.
LEARN MORE:
https://www.scientologynews.org/press-releases/
https://www.scientology.tv/series/inside-scientology/inside-a-church.html
MULTIMEDIA:
VIDEO:
https://www.scientology.tv/series/inside-scientology/inside-a-church.html
PHOTO link for media: https://www.Send2Press.com/300dpi/23-0825-s2p-whdbanquet-300dpi.jpg
Photo Caption: World Humanitarian Day awards ceremony and banquet at the Church of Scientology Los Angeles.
TAGS: #ChurchofScientology #WorldHumanitarianDay #ScientologyVolunteerMinisters
News Source: Church of Scientology International