SAN DIEGO, Calif., Feb. 1, 2023 (SEND2PRESS NEWSWIRE) — We Inspect, LLC, a global mold inspection, consulting and health technology company, recently acquired Certified Mold Inspections and The Mold Guy. Its acquisitional goal is to unify these individually-owned family businesses under one name and to better serve the community as a whole.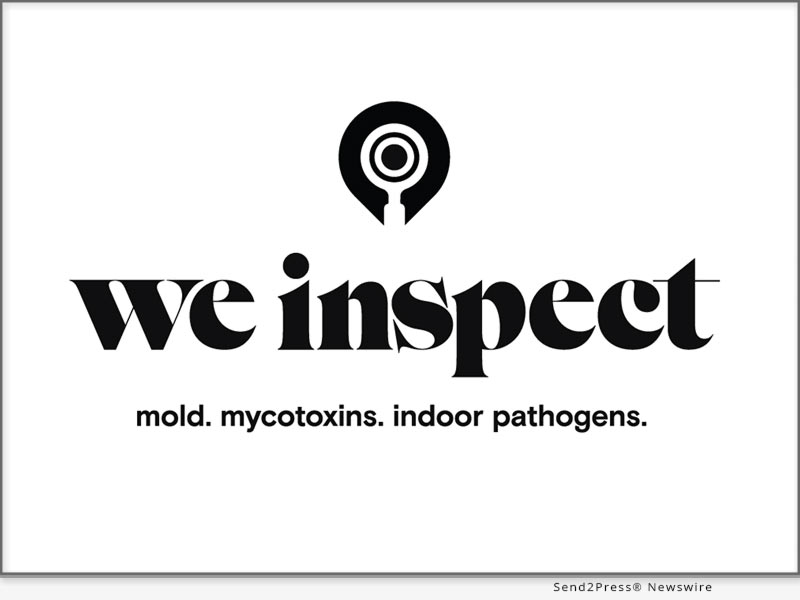 Image Caption: We Inspect, LLC.
We Inspect was founded in 2018 by Corey Levy and Brian Karr; Certified Mold Inspections was founded by Steve Levy in 2004; and The Mold Guy was established by Mark Levy in 2005. As individual companies, the Levy family serviced different territories and were collectively known as the number one mold and biotoxin resource for medical practitioners across the country.
"These acquisitions have provided the company with the expertise and human capital needed to expand its educational and consulting capabilities, allowing it to fulfill its mission of empowering people everywhere with the tools and services they need to create healthy homes," Karr says.
Streamlining the family business under the one We Inspect name, will now allow it to serve significantly more mold-sensitive individuals by deploying its 42 years of experience across in-person home inspections, remote consulting and educational offerings.
Unlike other mold inspection companies that rely on antiquated inspection and testing practices which oftentimes dismiss the presence of mold contamination in homes, We Inspects' #FindProveRemove framework has been shaped by the most current scientific findings and proven by more than $20 million dollars of successful mold remediations.
"The majority of mold contamination in homes is hidden, but most mold inspection companies don't understand how to find it," Karr says. "They often rely on outdated testing methods that provide false negatives 70 percent of the time which is dangerous and gives occupants a false sense of security and perpetuates chronic illness."
Karr says that what sets them apart from other mold inspection companies is their ability to find the hidden sources of mold contamination in a home.
"Once we know where it's coming from, it can be remediated and the occupant can begin to heal in their home," he says.
Additional advantages of streamlining these businesses include free training and actionable resources for medical practitioners and their patients (bridging communication gaps), #moldfinders: RADIO podcast, scholarships, discounts for mold-affected people worldwide, DIY home screens and consulting services for anyone regardless of where they live or their financial situation.
About We Inspect, LLC:
We Inspect is a global mold inspection, consulting, and health technology company that helps mold-sensitive individuals regain their health through education and the environmental assessment and testing of their homes and buildings for mold, mycotoxins and other indoor pathogens. It has helped thousands of people across six continents to create homes that support their ability to heal from mold-related illnesses.
MORE INFORMATION:
MULTIMEDIA:
PODCAST (Apple): https://podcasts.apple.com/us/podcast/moldfinders-radio/id1515039084
LOGO link for media: https://www.Send2Press.com/300dpi/23-0201-s2p-weinspect-300dpi.jpg
News Source: We Inspect LLC