CHARLESTON, S.C., Oct. 23, 2023 (SEND2PRESS NEWSWIRE) — AguaSeal, known for its popular MonoSeal Roofing System, a sustainable, fully adhered, fabric-reinforced fluid-applied roofing system that is designed to last the life of your facility, announces this week that they have launched a new website, as well as update their logo.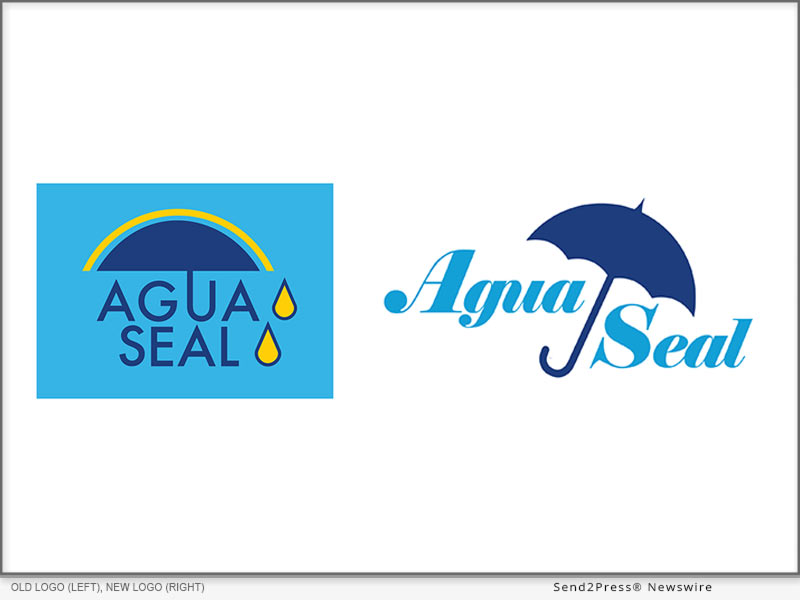 Image Caption: AguaSeal – Old Logo (left), New Logo (right).
The new website and logo were designed to bring the company's branding more in sync with the modern line of waterproofing products that they offer. The new logo pays homage to the original AguaSeal Logo by incorporating the umbrella design that our customers have become familiar with over the years, while offering a fresh perspective, with a more sophisticated design.
When it came to the website redesign, the old AguaSeal website had been around for years and was due for a remodel. The AguaSeal team worked hard to develop a new website layout that provides a clean, modern approach, with greater functionality and enhanced content focused on the wide array of waterproofing products offered by AguaSeal. The new website also features new content regarding AguaSeal's product rating from the Cool Roof Ratings Council, as well as information about regional training events hosted by AguaSeal, for contractors who are interested in becoming AguaSeal applicators.
"We are excited about the launch of our new website. It looks great and the new layout will allow our customers and visitors to more easily navigate the website, making it easier than ever to find key information regarding our product line," said General Manager, Perry Smith. "We encourage everyone to visit the new website and see what the AguaSeal team has to offer."
You can visit the new website live at https://www.aguaseal.net/.
About AguaSeal:
AguaSeal brings a 21st-century approach to fluid-applied roofing. In doing so, the building owner is ensured a proven roofing and waterproofing system for the coming decades, and the roofing contractor is supplied with all the necessary ingredients to provide a top-quality project. Thirty years of witnessing problem scenarios on roofing substrates have led to our formulating a portfolio of products to address virtually all issues encountered on a roof, be it new construction or old replacement.
SOCIAL MEDIA:
https://www.linkedin.com/company/aguaseal/
https://www.facebook.com/AguaSealLLC
MULTIMEDIA:
Image link for media: https://www.Send2Press.com/300dpi/23-1023-s2p-aquaseal-logo-300dpi.jpg
Caption: New logo for AguaSeal
RELATED LINKS:
https://aguaseal.net/monoseal/
https://aguaseal.net/cool-roof-ratings-council/
https://aguaseal.net/training-events/
News Source: AguaSeal