BETHLEHEM, Pa., July 10, 2023 (SEND2PRESS NEWSWIRE) — Edupoint® Educational Systems announced today that Bethlehem Area School District (BASD) has selected the company's industry-leading Synergy® Student Education Platform for its K‑12 student data management needs. The district's solution will include Synergy Student Information System, Synergy Online Registration, Synergy MTSS, and Synergy Special Education, and will be hosted in the Synergy AWS Cloud environment. BASD serves over 13,300 students across 22 schools in the Lehigh Valley region of eastern Pennsylvania.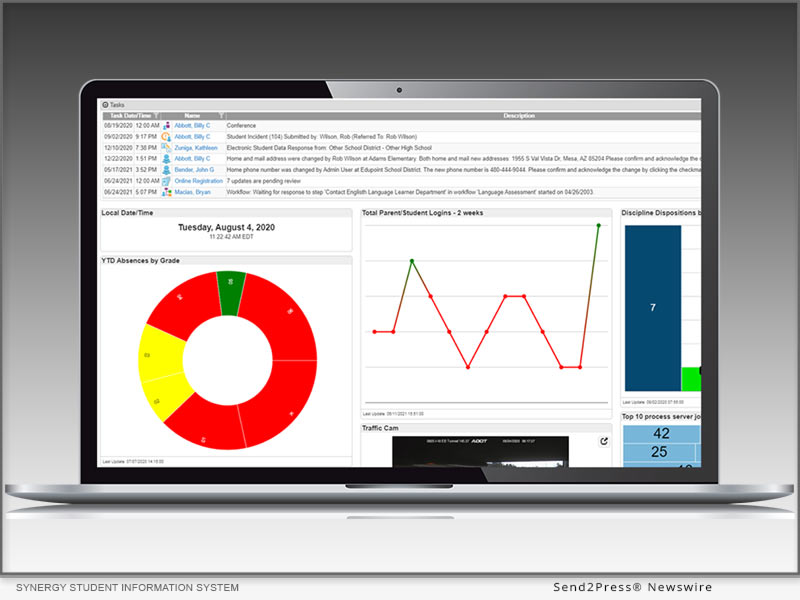 Image Caption: Synergy Student Information System.
Bethlehem district leadership assembled a team to explore current industry offerings and evaluate their ability to offer improvements in efficiency and effectiveness. Over a period of six months, 67 participants representing a wide variety of roles at all levels of the organization – including secretaries, teachers, principals, assistant principals, and applications specialists, in addition to the district technology team – contributed feedback on the solutions under consideration. After extensive evaluation, including hosting week-long software demonstrations with three finalists, the team selected Synergy based on a number of key factors, including the following:
Integrated student information, special education, and MTSS management
Streamlining of special education and MTSS processes
Robust query, reporting, and decision support tools
Timely, reliable data
Federal and state reporting capabilities
An established and growing presence in Pennsylvania
The district also sought a vendor with a long-term commitment to building and supporting its solutions in-house – a criterion that only Edupoint was able to meet.
"We didn't want multiple separate systems," said Marie Bachman, Chief Technology Officer at BASD. "We wanted to give our teachers an improved user experience, greater access to students' special education information, and a better system for MTSS – all of which will enhance their ability to support students. Teachers are excited about these modules, which work together and are built right into the interface that they will already be using for everyday tasks."
"With Synergy, Bethlehem Area School District is getting a student data management system that will aid in eliminating unnecessary data-entry and integration busywork so stakeholders can focus their time on higher priorities, including supporting students and improving learning outcomes," said Rob Wilson, Edupoint's President and Chief Innovation Officer. "The seamless integration built into Synergy Education Platform will make a significant contribution, as well, to the district's efforts to improve data governance. We are pleased to welcome BASD aboard as an Edupoint partner."
About Edupoint Educational Systems
For over 35 years, the leadership of Edupoint Educational Systems has provided well-designed, technologically advanced student data management systems that empower K-12 stakeholders to improve student achievement. Synergy Education Platform by Edupoint is an industry-leading student data management ecosystem built to fit the way educators already work. Synergy is unique among K-12 student data management solutions in providing an array of role-based mobile apps designed to give all stakeholders access to the tools they need when and where they need them. More than 5.5 million students use Synergy in 22 states.
Learn more: https://edupoint.com/
IMAGE FOR MEDIA:
https://www.Send2Press.com/300dpi/23-0710-s2p-synergy-sis-300dpi.jpg
Caption: Synergy Student Information System
News Source: Edupoint Educational Systems