TAMPA BAY, Fla., Oct. 15, 2018 (SEND2PRESS NEWSWIRE) — Current Builders (currentbuilders.com), an award-winning general contractor based in Pompano Beach, today announced the opening of a new office in the Tampa Bay area. The 46-year old company is expanding to meet the demands of their developer partners and to tap into the construction boom along Florida's Gulf Coast. Chip and Teresa Angenendt will be overseeing the expansion and connecting with local developers about Current Builders' offerings, including the benefits of the firm's self-performing concrete structures division.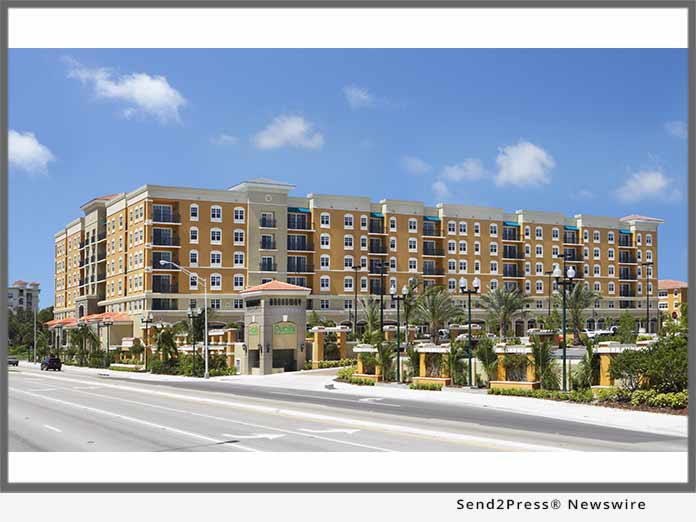 "This is an exciting time for Current Builders," said Mike Taylor, President. "We see tremendous growth potential on the west coast. In the past years, we have completed several key projects from Naples to Tampa, but now, with Chip and Teresa managing our office there, we will deliver an even greater level of service to our development partners."
From senior living to student living, village halls and community centers to luxury auto vaults, Current Builders' project portfolio features all building types with 85% of projects commissioned by existing clients. During the past five decades, our firm has garnered a stellar reputation while building over 45,000 multi-family units, 15 million square feet of office/industrial space and over 250,000 square feet of retail.
On Florida's Gulf Coast from Naples to Tampa, during the past two decades, Current Builders has built over 4,000 multifamily residential units exceeding $267 million in construction volume including market rate and affordable rental communities, condominiums and assisted living facilities. Some of the firm's local project credits include Bay Club I and II, Broadway Promenade, Bay Point, Heron Cove, Aston Gardens ALF and two phases of the Carlisle at Naples, to name a few.
Part of the firm's expansion strategy is to meet with west coast developers to share the building options and advanced tech capabilities that Current Builders brings to the market.
"Current Builders has maintained a self-performing concrete structures division for more than 40 years," said Teresa Angenedt, the firm's Pre-Construction Manager. "This gives us a tremendous advantage in offering developers and their architects cost-effective building options. In many cases, we have saved millions of dollars on a single project by providing our clients with alternatives they had not realized were possible."
CB Structures service/building systems include: tunnel form, conventional forming systems supported by reinforced masonry, post-tensioned slabs supported by flying forms, tilt-up construction and precast joist assemblies.
"Current Builders is also a leading advocate for technological advances," said Chip Angenendt, Principal in Charge of senior living projects. "The firm, which was an early adopter of BIM over a decade ago, maintains an active virtual design department, which is continually updating protocols and new applications to create a more efficient work environment."
Current Builders new office is located at 360 Central Avenue, Suite 800 in St. Petersburg, FL 33701. Telephone: 813-316-4611
Current Builders is an award-winning general contractor, established in 1972 with average annual revenues of $150 million. Current Builders specializes in multi-family residential projects, healthcare facilities, office/warehouse buildings, commercial distribution facilities, parking garages, interior build-outs, interior and exterior renovations, all included as turnkey projects inclusive of the construction of the buildings and related site work.
Learn more: http://www.currentbuilders.com
News Source: Current Builders