LOS ANGELES, Calif., Jan. 23, 2019 (SEND2PRESS NEWSWIRE) — The annual Cursive is Cool® contests for 2019, under the auspices of the American Handwriting Analysis Foundation, will launch on National Handwriting Day, celebrated around the world on Jan. 23 each year. Cursive writing continues to enjoy increased appreciation in the United States and around the world. Scientific studies reveal the benefits of writing by hand to positively impact motor skills, cognitive development and improved learning outcomes such as better recall and retention for young learners.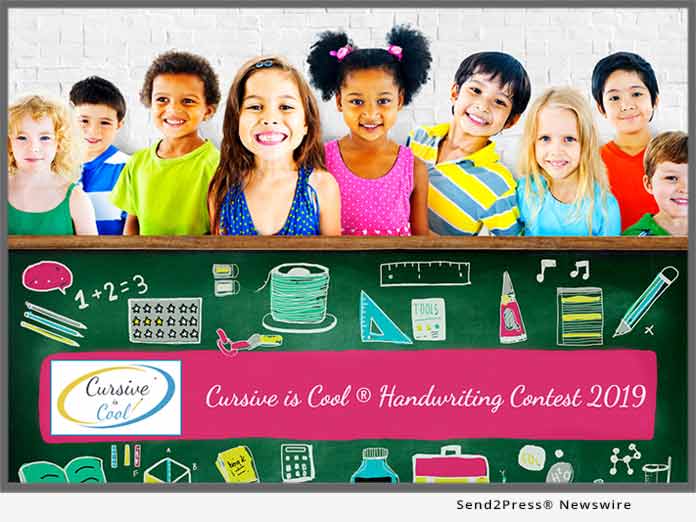 The American Handwriting Analysis Foundation organizes the annual Campaign for Cursive® contest in the USA and Canada. January 23 is the date associated with the birth of John Hancock. Legend has it that Hancock, known for his large and showy signature on the U.S. Declaration of Independence, purposely enlarged his signature so "King George can see it without his spectacles."
Campaign for Cursive® offers three contests: one in the USA and two in Canada (one for English writers, one for French). Grade 1-6 students have the chance to test their cursive skills as well as their creativity in answering one of the posed questions.
The deadline for all the contests this year is March 8, 2019.
A page with Frequently Asked Questions (FAQ) has been placed on the website to help parents and students as they get ready to write their entries. Entries for each contest are submitted in different ways and full information can be found on the Cursive is Cool® website.
Winners of the contests will receive medals, certificates, fun new writing instruments, and accessories. Supporters of the contest include the American Handwriting Analysis Foundation, Amsterdam Printing, CursiveLogic, Fahrney's Pens, Laywine's, New American Cursive Penmanship, Pelikan, PEN World, Retro51, Sakura, and Staedtler. The contest has two new supporters this year: Bittner Pens and Monkey Magnets.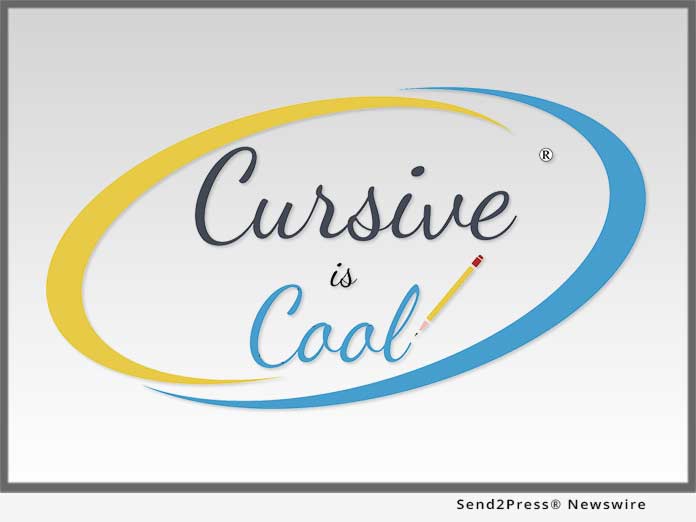 Contest judges are handwriting specialists, handwriting analysts and educators. Entries will be scored for neatness, legibility, consistency and creativity. Winners will be notified 3 to 5 weeks after the close of the contest and posted to the organization's website and social media channels.
"We're anticipating more entries this year and have 18 handwriting specialists lined up to judge from coast to coast," stated Gayna Scott, Chair of the Campaign for Cursive® committee. "The quality of the writing continues to improve which is very positive. We love the enthusiasm from teachers and parents encouraging participation."
For more information, please contact Gayna Scott, Chair of Campaign for Cursive® at gayna@comcast.net.
More information: https://www.campaignforcursive.com/.
https://www.campaignforcursive.com/2019-cursive-contest-forms.html
Twitter: @AHAFpr @Campaign4Cursiv #cursiveiscool #NationalHandwritingDay
About the American Handwriting Analysis Foundation:
The American Handwriting Analysis Foundation is a 501-(c)6 non-profit business organization, chartered and incorporated in California. Dedicated to the advancement of the handwriting sciences, AHAF promotes education for handwriting examiners at all levels of expertise and from all schools of thought. Information: https://www.ahafhandwriting.org/.
*IMAGE link for media: https://www.Send2Press.com/300dpi/19-0123s2p-campncursive-300dpi.jpg
News Source: American Handwriting Analysis Foundation